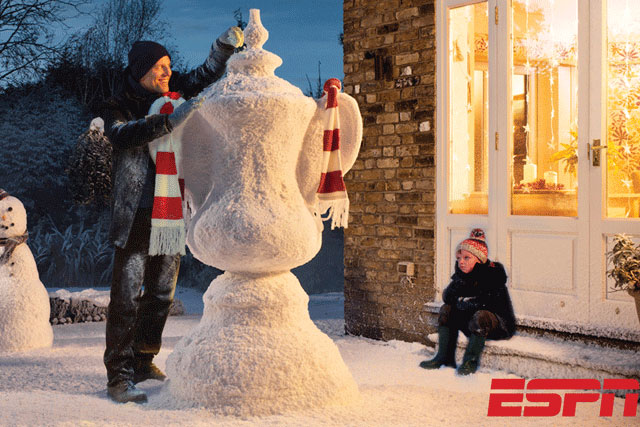 The campaign will include four creative executions based on fans' obsession with the competition.
The first ad will feature a father and son building a snowman in their garden, but with the competition on his mind, the father builds a giant FA Cup in the snow instead, much to the disappointment of his son.
It will appear in outdoor media on 28 December, followed by online video and press versions between New Year's Day and the third round on 7 January.
Other executions will appear after the third round. Created by ESPN and BDA Creative, another ad will feature a student at a life drawing class accidentally drawing a picture of the FA Cup instead of the naked model.
The ads were written by Paul Maley, Dan Merry, Sally Bowness, Kathryn Dufty and John-Paul Smith, with art direction by Tim Finnamore and planning by James Moody and Emma Profitt. The photographer was Dylan Collard at Vue, while videos were directed by Richard Cousins at BDA and the producers were Vicky Lynn and Amanda Robinson, also at BDA.
Mike McKibbin, group marketing director at ESPN Europe, Middle East and Africa, said: "Sports fans aren't passive viewers. We understand that and want to connect with fans through this campaign. We aim to demonstrate our understanding of the FA Cup, its unique appeal and fans' passion towards it."
ESPN picked up the rights to show the FA Cup live in 2009, following the demise of the broadcaster Setanta, which had previously held the rights.
Follow Sara Kimberley on Twitter @SaraKimberley