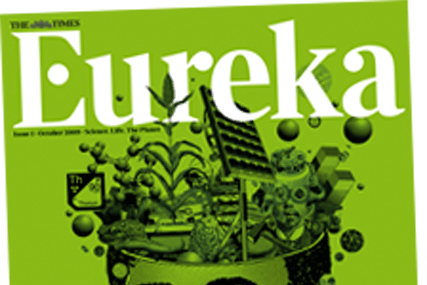 Magazine
Eureka
Owner
News International
What's happened
Magazine has launched

This is what The Times aims to deliver through its new monthly magazine, Eureka, which will cover science, life and the environment, giving insights into the latest scientific developments, the people behind them and how they affect us and our world.
It's certainly very niche and casts doubt as to whether this offers something that will be of interest to Times readers.
However, coming out of The Times stable, this does not seem misplaced at all; science has always been on the agenda for The Times, which
has covered scientific content since 1785 and hired its first science correspondent in 1911.
Editorially, Eureka is a good read. The first issue was well written, including contributions from specialist science writers from The Times, as well as key person­alities from the science and arts worlds.
Striking imagery matched the content and a great article about the fastest sprinter on the planet - Jamaican Usain Bolt - and the human capacity for speed in the sport section was a perfect example of how "science" can be made appealing.
Commercially, this is a tough time to launch a new magazine. Therefore, it is great to see News International investing.
While Eureka may seem slightly too specialist to excite all readers, as we are all aware, climate change is a hot topic, with rising public interest in environmental responsibility and rising pressure for corporate "green" targets to be met.
I'm sure The Times won't be short of interested corporate advertisers looking to align themselves with this subject.

What's good?
Intelligent content delivered though quality journalism.

What could be better?
A slightly more reader-friendly layout.

Would I book my clients in to this?
Yes, for relevant clients, definitely.
Dominic Williams, Press director, Carat