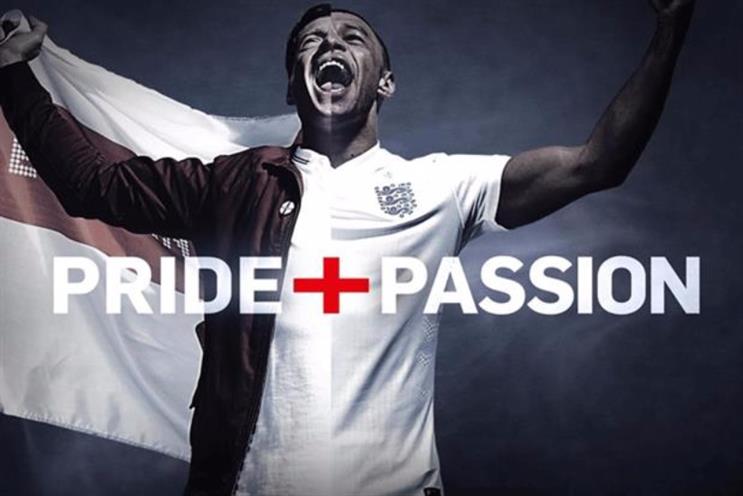 But with the 2016 UEFA European Championship just around the corner, Marketing asked a number of brand experts whether England fans can be re-engaged with the national team, and what value the tournament has for brands.
Last year's shambles on the international stage sparked indignation across the country, leading the Football Association to take action and launch a campaign to re-ignite England fans' faith in their team.
When the initiative was announced in September 2014, FA head of marketing Russell James said: "The start of the Uefa Euro 2016 qualification campaign represents a new era for the England team – with a group of young and exciting players that the nation can be proud of."
Does this group of relative unknowns mark a new era for English football?
New team, new optimism
For Tim Crow, chief executive of Synergy Sponsorship and a partner at Engine Group, it will be business as usual, and while the memory of Brazil 2014 may still smart, hardcore England fans will be rapt with Euro 2016 from the start.
I imagine because of the nature of the home nations aspect of this tournament and the fact that Scotland's not in it, that brands will have fun around that
"It's always the same with any event," he says. "You've got the hardcore of fans and then the people drawn into it because they are armchair or casual fans. We saw it with the Rugby World Cup. And they all disappeared once the home nations were knocked out.
"What's different about this tournament is that there is a feeling of optimism driven by new faces - players like Harry Kane and Jamie Vardy - as well as what's going on at the smaller clubs."
Whether or not England perform with aplomb or merely bomb, for Simon Rines, editor at IMR, there is still extensive mileage for brands associated with the national team or with the tournament itself.
"For brands, the interest will be there regardless of how England does," he says. "To an extent it's arguable that you don't have to be backing the winner to benefit. Obviously England sponsors don't want them to go out early. But, for example, over the years Carlsberg has sponsored England and will have big in-store promotions going on regardless of how the team does."
Brands will activate from March
Kick off for Euro 2016 is 10 June, with England making their debut the following day, in a game against Russia. So, when can we expect to see brands activating their sponsorships?
"Brands don't usually start putting activity into the market until May," says Crow, whose agency is working with Coca-Cola on its sponsorship of the tournament. "The Champions League final tends to be the starting gun. But there will be a lot of work going on behinad the scenes."
For top-tier European Championship and Uefa sponsor Continental Tyres, its marketing activity will start rolling out as early as March. As a tournament sponsor and supplier of tyres for all team busses, Continental is targeting a range of audiences, from retailers to car owners.
"We have a few different routes to market," says Peter Robb, the company's marketing communications manager. "One is to engage with tyre retailers and generate purchase intent, so we will be running with that from March to May with various retailers offering their customers the chance to win Euro 2016 merchandise and tickets to games.
"Then we're looking for something slightly different this year. One of the key messages - and we've been involved in football for more than 20 years - is that we want to generate more engagement with fans and strike a chord.
"Tyres are a quite difficult product to have an emotional attachment to. One thing we are therefore building on is the concept of safety - getting to the game safely."
Continental will be using social media to drive fans to its dedicated football microsite, and Robb argues that the brand can play its part in enthusing football fans.
"I think we can do good work in terms of getting the energy up and the excitement up," he says. "The fact that there are four out of five of the home nations in the tournament is a huge opportunity for brands."
Englishman, Irishman...Welshman
This is also an interesting dynamic for Crow, both in terms of driving brand value and sustaining audiences. "We'll see a lot of England 'flying the flag' activity inevitably," he says. "For the first time, however, we've got a home-team national event, with Wales, Republic of Ireland and Northern Ireland in.
"I imagine because of the nature of the home nations aspect of this tournament and the fact that Scotland's not in it, that brands will have fun around that."
While the 10 Uefa partners and team sponsors will aim to capitalise on the event, brands that lack official ties will also benefit, according to Mat Goff, joint managing director, Adam & Eve/DDB, which works with the Football Association on its campaign to promote girls' football.
"We don't work with any of the FA's official sponsors," he says. "But having said that, these days you don't have to be an official sponsor to capitalise on it. There's more media interest and excitement and more brands will want to get involved, tactically and topically. I think if it's something that large chunks of the population are talking about, then a lot of brands are seeking relevance."
Brands from emerging markets
While Uefa itself obviously won't benefit financially from the activity of non-sponsors, its coffers are already bursting as a consequence of a rights market in unprecedentedly rude health.
"On average the tier one sponsors are collectively spending in the region of $15-20m annually," says Rines. "Then you have the domestic sponsors, who are maybe paying a couple of million dollars each.
"Compared to the last time, and bearing in mind that a few big deals started in 2012 and ran for five years, I'd suggest there's been around a 50% rise. For big rights, the market has seen huge inflation."
Is this growing profligacy among the globe's marketers a testament to the growing efficacy of such an association?
"I think it provides opportunities for brands to reach some audiences that they might otherwise struggle to reach,'' says Goff.
It certainly appears to be a consideration higher up the agendas of global marketers, with this year's European Championship attracting brands from as far afield as China and South Korea, with Chinese electronics company Hisense signing up last week as an official sponsor.
Rines points out that from the list of 10 official sponsors (Adidas, Carlsberg, Continental Tyres, Coca-Cola, Hisense, Hyundai/Kia, McDonald's, Orange, Socar and Turkish Airlines), three are from emerging markets.
"This is a trend that we predicted a year or two back and is another reason for rights fee inflation," he says. "The more big companies there are in the world looking for global marketing platforms, the more they will cost as a result of supply and demand."
He also suggests that Uefa could be benefiting from the fallout over scandal-beset Fifa.
While brands clearly believe that they can win from an association with the Euros, with England's scandalous performance in Brazil still fresh in the memories of supporters, can the tournament win back those fans?
"Football in England is a funny old thing," says Goff. "And we always manage to find a way to find hope and pride in a tournament. Even though logically, we shouldn't get too excited, we still convince ourselves that this could be the one."