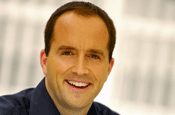 Jones is one of two names from adland overall. DDB president for Latin operations, Juan Carlos Ortiz from Columbia was also honoured.

Other Brits on the list include cabinet minister Ed Miliband and Elizabeth Murdoch, the chairman and chief executive of the production company Shine and Jamie Mitchell, the managing director of Innocent.

Former Wimbledon champion Steffi Graf, now founder and chairperson of charity Children for Tomorrow and actor Leonardo DiCaprio were also on the list.

The list honours 245 executives, public figures and intellectuals - all aged 40 or younger from around the world.

They were chosen from a pool of almost 5,000 candidates selected for their professional accomplishments, commitment to society and potential to contribute to shaping the future of the world.