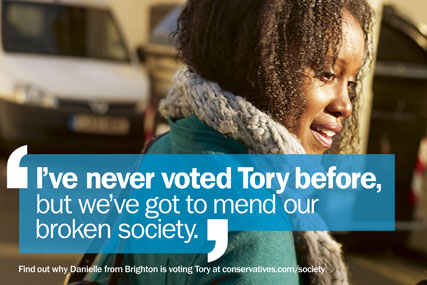 The ads were commissioned by the Tories before the General Election earlier this year, but are understood to have been shelved over concerns that their provocative content could cause a backlash at a time when the party felt secure of its position in the polls.
Running under the "I've never voted Tory" strategy, the striking ads take a refreshing change of approach to the usual political fare, addressing subjects traditionally considered too edgy for UK voters.
But when Campaign contacted Euro RSCG, the agency behind the ads, to confirm that it had created them, legal action was threatened should the ads, or a description of their content, be made public.
Euro created most of the Tories' pre-election advertising, but in March, M&C Saatchi was drafted in to work alongside it on communications.
Since coming to power, prime minister David Cameron insisted that the new government should take a more open approach.
At the end of May, he pledged "greater transparency" and promised to remove the "cloak of secrecy" from government affairs.