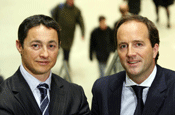 Matt Atkinson, the chief executive of the EHS Brann Group, has been promoted to the newly created role of global head of the digital network Euro RSCG 4D.
The role has been created by David Jones, the global chief executive of Euro RSCG, as the Havas-owned network looks to beef up its international digital offering.
Atkinson will retain his EHS Brann chief executive duties but the agency has also appointed Mike Spicer, the former chairman of Media Square's marketing division and group managing director of Arc Worldwide, to be its group managing director.
He will assume some of Atkinson's responsibilities, which include EHS Brann's subsidiary operations Euro RSCG 4D, EHS Brann Cirencester and EHS Brann Discovery.
Jones explained: "No agency can be without a strong digital base; it must have digital at its heart and core. Matt can cope with the size and scale of running a major brand and business, but he is also a real entrepreneur who is not afraid to get his hands dirty."
Atkinson added: "I think we have a lot of latent potential and enormous expertise that needs a bit of shaping and directing. In 4D, you've got the data and digital bases, which are so relevant to the challenges clients are facing today; it will be a good place to be."
Atkinson joined the EHS Brann Group in 2004 from Tequila where he was its managing director. Before Tequila, he was at Grey for four years.
Spicer will work closely with Terry Hunt, the chairman of the EHS Brann Group, as well as the management teams of its subsidiary operations.