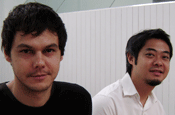 Copywriter Fabio Abram and art director Braulio Kuwabara, who joined Euro RSCG today, are old partners from DM9DDB and LewLaraTBWA in Brazil.
During that time, the team, both 32 from Sao Paulo, worked on campaigns for Honda, the Brazilian Airline TAM, Timberland, Peugeot and Nokia amongst others.
Mark Hunter, executive creative director at Euro RSCG London, said: "Fabio and Braulio have a passion for advertising that is evident the moment you see their book.
"Their work is fresh and surprising and above all else, beautiful.
"I am very keen to broaden the cultural and experiential make-up of the department here at Euro London and so a pair of talented and hungry Brazilians is just the ticket.
"I am extremely excited by the prospect of them joining our department."