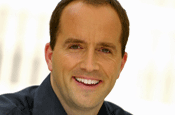 The changes, effective immediately, will see four executives given the titles co-managing director, Europe, replacing Pierre Lecosse, who has served as chairman and CEO of Euro RSCG Europe since 1997.
The four are Gilles Bérouard, CEO of Euro RSCG Northern and Eastern Europe, Andreas Geyr, CEO of the Euro RSCG Germany group, Juan Rocamora, CEO of Euro RSCG Southern Europe and Christian de la Villehuchet, CEO of Euro RSCG Benelux.
David Jones, Global CEO of Euro RSCG Worldwide said : "Juan, Gilles, Andreas and Christian will focus on driving that growth, accelerating the roll-out of our digitally integrated model and continuing to attract some of the world's best creative talent."
"The new team has been charged with driving revenue growth, further improving creative product and accelerating the groups leading position in digital.
As previously, France and the UK will continue to report directly to the Euro RSCG Worldwide management team.