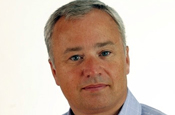 The agency has no plans to replace Cadman. Russ Lidstone, the managing partner and chief strategy officer, will take on the acting chief executive role.

Cadman's responsibilities will be split between Lidstone and Mark Hunter, the executive creative director.

David Jones, Euro RSCG's global chief executive, said: "I'd like to thank Mark Cadman for the role he has played – we are in a much stronger position today than when he joined us.

"We're very ambitious for where our London agency can get to and it's now time for us to set out on the next phase of that journey.

"In Hunter and Lidstone we have two of the best talents in London and I'm very excited about what they can achieve."

Cadman's departure follows just days after Euro RSCG lost the £26 million 3 account – which he secured alongside Lidstone shortly after the pair joined from JWT in 2006 – into the digital agency Glue.
The loss of the 3 account was the latest in a number of significant losses for the agency, including the News International business, which moved into WCRS in November, and the bmi and bmi baby accounts, which were snared by M&C Saatchi and Cheethambell JWT respectively.

At the time Cadman joined Euro RSCG, he had been linked with a senior position at Sir Frank Lowe's start-up, The Red Brick Road. However, he decided to leave his role as JWT managing director to replace Ben Langdon, the former Euro chief executive, who had departed the previous year.

Kate Robertson, the Euro RSCG UK group chairman, said: "We're going to move up a couple of gears now. We've plans to action and Lidstone and Hunter are the right team at the right time."

Cadman was not available for comment.