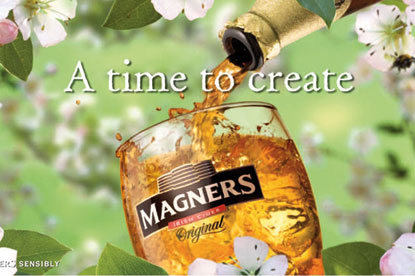 The agency won the business without a pitch. Young Euro RSCG, which is based in Dublin, will continue to develop work specifically for the Irish market. It has handled all of the advertising for Magners in the past.
C&C Group, the holding company that manufacturers both Bulmers and Magners, made Magners Pear cider available in the UK this month throughout the licensed and grocery trade.
Euro RSCG's campaign to support its UK launch in the summer will span TV, outdoor, radio, press and online.
The agency will work with Cake and the media agency MPG, which remains responsible for all media buying and planning.
Young Euro RSCG's last ad for Magners Irish Cider featured the tales and experiences of two workers from Clonmel, County Tipperary, Ireland.
Russ Lidstone, Euro RSCG London's managing partner, said: "This is a fantastic opportunity to produce work on a terrific new product from a brand with a strong history in the UK market. We're really happy to be involved."
Last month, the Advertising Standards Authority banned a Magners cider TV ad for suggesting that it would boost confidence and serve as an ice-breaker at a social event.