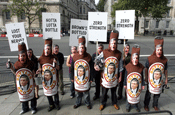 Euro will establish a new subsidiary company, called Euro Referendum, to service the business. The company has been named to reflect the Tories' pledge to hold a referendum on the EU treaty should the party come to power.

The team will be headed by the agency's global chief operating officer, Chris Pinnington, the UK group chairman, Kate Robertson and the executive creative director, Mark Hunter.

The Conservative Party head of brand communications, Anna-Maren Ashford, said: "Euro RSCG has already brought a huge amount of energy and passion to this communications challenge and we're very pleased to be working with it."

The Euro RSCG Worldwide chief executive, David Jones, added: "You can do many things in our industry and work on many exciting brands, but nothing has the same important scale as being part of getting a new government elected."

Euro has already produced its first work for the party, a tactical campaign designed to capitalise on Gordon Brown's decision not to hold a General Election this autumn.
The agency created bottles of beer with a "bottler brown - zero strength" label, and strategically placed people in bottle suits at outside broadcasts covering the news as it broke over the weekend.

The agency does not have any political experience in the UK. However, the network's Paris office, BETC Euro RSCG, is credited with Francois Mitterand's two successful presidential campaigns, under the creative directorship of Jacques Séguéla, the Havas executive vice-president and BETC chief creative officer.

The appointment does not affect the Conservative Party's relationship with Karmarama, which confirmed last month that it had rejected the chance to create a General Election campaign for the party. The agency continues to work with the party on campaigns covering social issues, including debt.