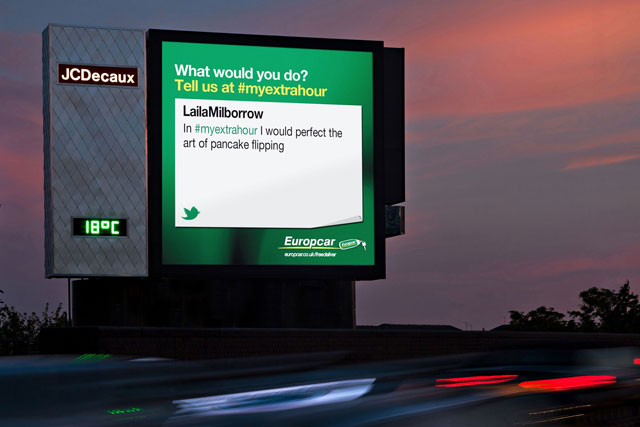 Europcar is using the Twitter hashtag #myextrahour to ask people to describe what they will do with the hour they gain with freeDeliver.
The stream from #myextrahour will be shown on JCDecaux's D6 sites, its digital six-sheet format, and i, its new square-format site on West London's Cromwell Road.
The ads are also running without the Twitter stream on a range of other outdoor formats, including CBS Outdoor's LCD screens on the London Underground, JCDecaux's digital panels at London Heathrow, and traditional 48-sheets.
The two-week campaign was created by Ogilvy & Mather, with media planning and buying from Publicis Groupe media agency MediaVest. The digital outdoor campaign was managed by production company Grand Visual.
Jaimes Leggett, managing director of Ogilvy & Mather, said: "It's great to be able to leverage social media activity at a broadcast level. Bringing these Twitter feeds direct to the iconic i site and on D6's nationally is a great way to inform consumers about the benefits of freeDeliver, as they go about their normal day."
Ken McCall, managing director of Europcar, said: "This is a great way to get customers participating in the advert itself and keeps the content fresh, interesting and relevant."
The outdoor activity is part of a £2.5m campaign for the freeDeliver service, which kicked off with what Europcar claimed was its first-ever TV ad earlier this month.