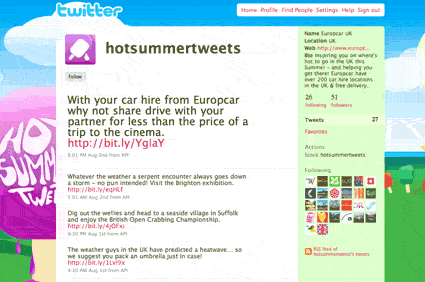 The Tweets offer inspiration for places to go and things to do plus information on car hire deals via links through to Europcar's website.
The campaign's content and strategy was developed with web designers Fortune Cookie with ideas for daily Tweets coming from Europcar's own marketing team.

The Tweets will be push out to Europcar's existing customers through regular email campaigns.
Danny Higgins, Head of eCommerce for Europcar UK Group, said the campaign was part of the firm's integrated online and offline strategy: We're very keen to explore new platforms such as Twitter to increase our brand awareness and interact with new customers in a very informal and more personal way.
We understand the importance of providing content that's of genuine value rather than just pushing a sales message.

While the vast majority of our Tweets concern fun ideas for places to go, our aim is to 'Inspire to hire' and introduce new customers to the idea of hiring a car for their weekend trips and UK holidays.