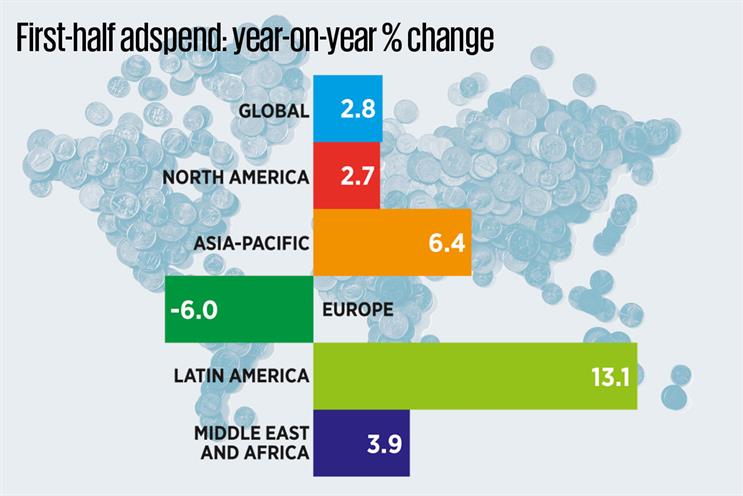 The measurement company's latest Global AdView Pulse report said that in the second quarter of the year, marketers continued to gradually increase their adspend, which was up 3.5 per cent year on year globally.
Across the globe, regions contributed growth across the first six months of 2013 apart from Europe, where ad expenditure declined by 6 per cent year on year. In the UK, adspend dropped by 2.3 per cent.
Media spend in the UK fell by 5.5 per cent year on year between 1 April and 30 June. Across Europe, the year-on-year decline for the quarter was 6.6 per cent.
Chris Locke, the group trading director at Starcom MediaVest Group, said: "The first half of 2013 was always going to be tough against last year's Diamond Jubilee and Euro 2012 particularly, and, to some degree, the run-up to the Olympic Games in London.
"However, across the year as a whole, we expect all media to be up around 2.5 to 3 per cent year on year in the UK, driven by search as well as spend across all categories including banks, autos and technology. Also, I've got a good feeling about 2014."
The only countries in Europe where Nielsen measured an increase in year-on-year adspend were Norway (2.5 per cent), Switzerland (0.6 per cent) and, interestingly, Greece (7.4 per cent).
Adspend in Latin America grew by 13.1 per cent year on year in the first six months of 2013, led by Argentina. Expenditure in the Asia-Pacific region increased by 6.4 per cent, with double-digit growth in Indonesia, China and the Philippines.
Expenditure in North America increased by 2.7 per cent year on year, according to Nielsen's report, which is published quarterly.