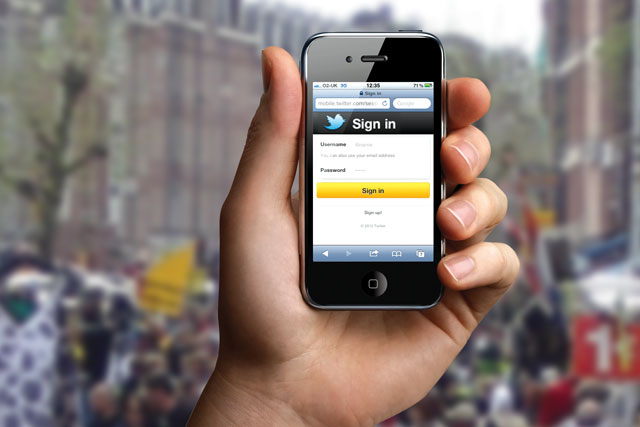 The research, seen exclusively by Media Week, from Ipsos Media shows that 20% of top European businessmen, including chief executives and finance directors, are spending more time on Twitter in an average month, than on global business websites such as Reuters, Bloomberg, and the Economist.
The data also reveals that the business elite have dropped off in their daily consumption of the Financial Times and The Economist.
The 2012 Ipsos Media report into media consumption of the Business Elite surveys business executives who have an average salary of €157,326 (£125,000).
In total, 444,441 executives were surveyed across Europe about their consumption of websites, newspapers and TV.
The findings show that the Business Elite remain high consumers of traditional media and have a desire for the most up to date information.
Sylvia van der Waal, research director at Ipsos MediaCT, said that because of this "it is therefore not surpring that their tablet and smartphone ownership has increased signifciantly. Tablet ownership is now at 42% (up from 24%) and smartphone ownership is double that of the general population at 76%."
In terms of daily newspapers, 14% of those executives surveyed said they read the Financial Times on a daily basis, which was down from 15% from 2011.
While down on 2011, the percentage reading the FT dwarfed the number reading rival business titles such as The Wall Street Journal Europe (2.8%), International Herald Tribune (1.8%) and USA Today (1.3%).
The Economist was the clear leader in the weekly business sector, with 13% respondents saying they read it, which was slightly down from the 14.1% who read it the year before.
Time magazine was read by 7.5%, ahead of Newsweek 5.6%, and Bloomberg Businessweek, 2.2%.
Across TV news channels, Sky News was the most popular channel, with 9% consuming the channel on a daily basis – up from 8.4% in 2011 – ahead of CNN International 3.6%, BBC World News, 3.3%, Euronews, 2.2%, Bloomberg TV, 1.3%, and CNBC, 1.1%.
Looking at weekly media usage overall across Europe, more than 61% of respondents said they accessed online content through a smartphone/BlackBerry, ahead of the 50.6% who watched a HD TV Channel at home and the 48.2% who accessed news via an app on smartphone/tablet.
Website consumption reveals that linkedin.com remains the most popular website with 17.5% looking at the site on a daily basis, ahead of BBC.com (12.9%), and Twitter, 8.6%.

Websites
| | | | |
| --- | --- | --- | --- |
| | Daily | Weekly | Monthly |
| linkedin.com* | 17.5% | 31.5% | 38.6% |
| bbc.com | 12.9% | 19.6% | 25.0% |
| twitter.com* | 8.6% | 14.4% | 19.8% |
| ft.com | 3.0% | 7.8% | 13.9% |
| skynews.com | 3.0% | 7.4% | 12.0% |
| bloomberg.com (incorp bloombergmarkets.com)* | 2.3% | 5.0% | 9.1% |
| reuters.com* | 1.7% | 4.8% | 9.4% |
| eurosport.yahoo.com | 1.6% | 3.7% | 7.0% |
| cnn.com | 1.5% | 4.9% | 10.1% |
| economist.com | 1.1% | 3.5% | 7.7% |
| nytimes.com (The New York Times/International Herald Tribune) | 0.9% | 2.5% | 4.8% |
| euronews.net | 0.6% | 2.3% | 5.5% |
| dailybeast.com (incorp newsweek.com)* | 0.5% | 2.0% | 5.3% |
| nationalgeographic.com | 0.5% | 2.4% | 6.4% |
| wsj.com | 0.4% | 1.7% | 4.5% |
| time.com | 0.4% | 1.9% | 4.2% |
| cnbc.com | 0.4% | 1.5% | 3.8% |
| businessweek.com | 0.4% | 1.7% | 4.4% |
| cnnmoney.com (incorporates fortune.com) | 0.2% | 0.6% | 1.4% |
| hbr.org | 0.2% | 1.1% | 2.5% |
| marketwatch.com | 0.2% | 0.9% | 2.1% |
| forbes.com | 0.1% | 0.9% | 2.8% |
| news.google.com | 11.7% | 22.1% | 29.5% |
| news.yahoo.com | 4.4% | 8.6% | 12.4% |
TV
Daily
Weekly
Monthly
Net International Channels
21.0%
51.1%
72.0%
Net International News Channels
15.3%
37.9%
59.5%
News Channels
Sky News
9.0%
18.7%
28.8%
CNN International
3.6%
14.3%
30.9%
BBC World News
3.3%
12.3%
27.5%
Euronews
2.2%
9.8%
21.3%
Bloomberg TV
1.3%
3.9%
9.9%
CNBC
1.1%
4.1%
10.7%
France24
0.8%
2.9%
6.4%
Al Jazeera English
0.7%
2.2%
5.7%
Lifestyle Channels
Eurosport
5.1%
18.8%
33.1%
Discovery Channel
3.2%
12.7%
26.1%
National Geographic Channel
2.9%
11.3%
23.1%
Newspapers
| | |
| --- | --- |
| AIR International Titles | 39.8% |
| Daily Titles | |
| Financial Times | 14.0% |
| The Wall Street Journal Europe | 2.8% |
| International Herald Tribune | 1.8% |
| USA Today | 1.3% |
| Weekly Titles | |
| Bloomberg Businessweek | 2.2% |
| The Economist | 13.9% |
| Time | 7.5% |
| Newsweek | 5.6% |
| Fortnightly Titles | |
| Forbes | 3.9% |
| Three-Weekly Titles | |
| Fortune* | 3.9.% |
| Monthly Titles | |
| Harvard Business Review | 10.5% |
| National Geographic (English) | 10.1% |
| Euromoney | 3.7% |
| Bloomberg Markets Magazine | 3.9% |
| Scientific American | 1.7% |
| Institutional Investor | 1.5% |
| The Banker | 1.1% |