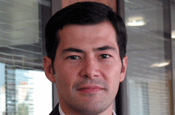 The newly created role will involve integrating Eurosport's new-media activities across the group's multimedia platform.
He will report directly to François Schmitt, the deputy managing director of broadcast and technology operations.
Maillard, 37, has been the group channel manager of MSN France since 2005. Before this, he spent ten years at AOL.
Maillard said: "I am very excited to join the Eurosport Group, working within a multicultural company covering a whole value chain of activities, from creating content to presenting content, on-air, on-site and online.
"My passion for sports has followed me through my career, and I have today an opportunity not only to work within a world-leading media platform, but also to work with experts and highly talented staff across the divisions of Eurosport's multimedia platform who share a common passion."
Schmitt said: "We have great ambitions for our new-media team, our online site being the Europe's number-one online sports destination. The arrival of Arnaud Maillard confirms our business development strategy of innovation and continuously reinforcing our products."