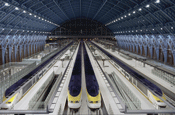 Rapp will be briefed to work across three core areas - CRM, loyalty and e-commerce programmes. The appointment comes after Eurostar called a review of the account in May.
Good Technology and Gyro were both involved in the initial shortlist, before being eliminated from the running at the beginning of October. Proximity, the incumbent on the account, did not repitch from the business.
Louise Holah, the e-commerce, commercial and CRM manager at Eurostar, said: "We are delighted to appoint Rapp to this account and look forward to working together on the many exciting opportunities ahead."