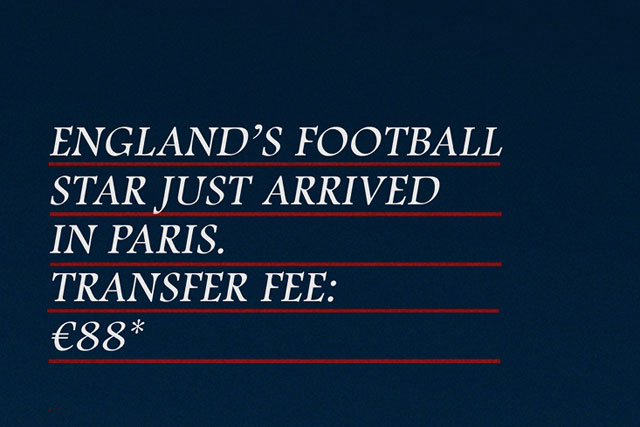 The Eurostar ad will run in print and promote the Eurostar's own transfer fee between the UK and Paris with the tagline, "England's football star just arrived in Paris. Transfer fee: €88*"

The ad was created by the French ad agency CLM BBDO and the white text is underlined by red and is set against a blue background, above a red silhouette of the Eiffel Tower.

At CLM BBDO the copywriter was Vincent Cusenier and the artistic director was Lucie Valloton.
At the bottom of the page, the ad continues, "London-Paris by Eurostar for as little as €88*" and then in the small print, * indicates a return ticket.
Former Manchester United and LA Galaxy midfielder Beckham, who is 37 years old, signed a five-month deal with Paris St Germain for a fee reported to be more than £3m last week, but pledged to give all his wages to charity.

Follow @MaisieMcCabe