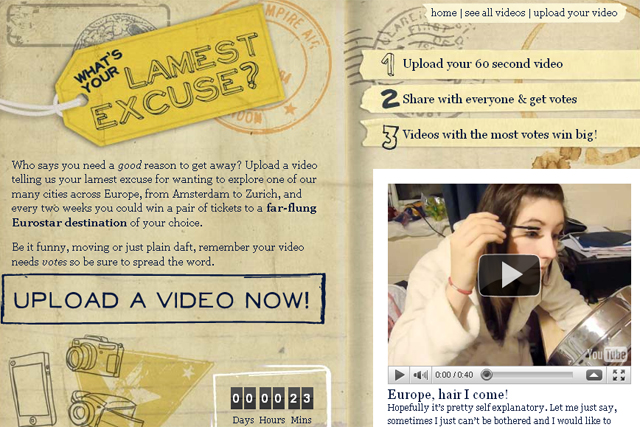 The campaign, created by Rapp and We Are Social, launches today (28 January) and will run for 12 weeks across Facebook, Twitter and YouTube.
The campaign encourages people to upload videos to the service's website, which demonstrate their "lamest excuse" for exploring one of Eurostar's European destinations.
The best videos will be selected by vote. Six winners will receive a pair of tickets to their preferred destination. Each winner will create a video while abroad and the one that collects the most votes will win free Eurostar travel for a year.
Daniela Glynn-Jones, social media and CRM manager, Eurostar said: "This is a fun way of demonstrating that Eurostar is not only the gateway to Paris, Brussels and Lille, but also the natural link to more than 100 destinations across France, Belgium, Germany, The Netherlands, and Switzerland.
"The competition has been designed to capture people's imaginations, and we hope that it will inspire many other travellers in the near future."
Yesterday, Eurostar appointed the Paris agency Leg to handle advertising activity around its sponsorship of the 2012 London Olympics.