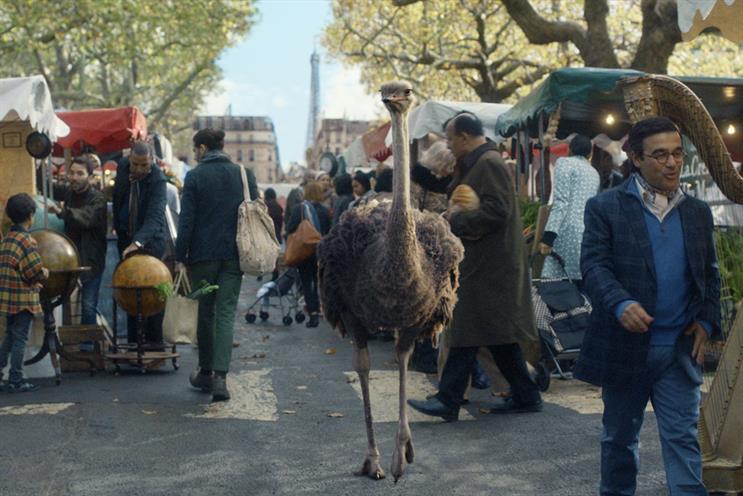 Eurostar, shortly after its 25th birthday, has launched a campaign to reignite the "challenger mentality" of campaigns past.
"You see more when you don't fly" follows the adventures of a thrill-seeking ostrich named Seymour as it explores Europe. It was created by Engine and comprises two spots.
The UK-targeting film, "Market", depicts the flightless bird as it saunters through a quirky Parisienne market. Seymour stares deeply into the eyes of a for-sale portrait painting, before bumping into an antique harp.
Likewise, "Punk" shows Seymour observing mohawk-sporting rockers in a Camden museum. Inspired by the defiance of London's punk scene, the ostrich throws caution to the wind and steps over a "please do not cross" line on the floor. "Punk" has been created for French, Belgium and Dutch audiences.
This marks Engine's first work with Eurostar since winning the account last year. Before that, all work was created in-house alongside production company Somesuch.
The TV ads launch today (6 February) alongside print, outdoor, cinema and digital activity. The media agency is Wavemaker, which was appointed to the brand after a media review last year.
"We celebrated our 25th anniversary in November and it feels like we've lost something that we had in our DNA all those years ago," Richard Sherwood, customer engagement director at Eurostar, told Campaign.
"We were a real strong challenger brand. We were trying to challenge conventions and, as a challenger brand, we were not just doing things differently – we were bolder, we were braver, we had a different tone of voice and we had different things to say.
"I wouldn't say it was complacency. But I think that hunger for growth was somewhat diluted compared to the hunger that you would have seen in our former years."
With the help of its new mascot – an animal that has "rejected flight, despite it being hardwired into its DNA" – Eurostar has opted to move away from performance marketing in light of more traditional above-the-line channels.
The campaign steers clear of the topic of Brexit, with Eurostar maintaining that Britain's departure from the European Union "doesn't change anything".
"What makes us incredibly proud as an organisation is the fact that we have connected these two communities – the UK and continental Europe – for 25 years. Nothing changes in that respect; we're still connected and we're still going to carry people from one community to the other, and vice versa," Sherwood continued.
"Did we take a moment on the 31 January to acknowledge that something big was happening? Yes, we did, but for us Brexit doesn't change anything."
In 2017, Eurostar launched a campaign to promote the "travel state of mind", which followed the adventures of a young traveller across Europe.