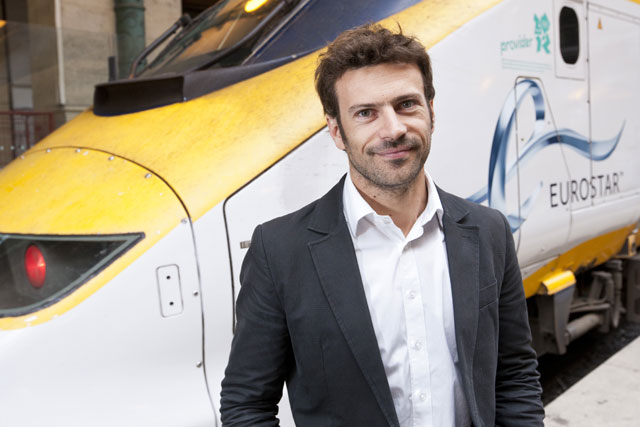 Centralised approach
"The work we started to do straight after the Olympics was to find out what is common to our brand in each of our markets.
"To put things into context, we used to be organised in a three-market approach, with one person heading up marketing and sales in the UK, one in France and one in Belgium. Even though we all had the same product, brand and logo, we were activating our brand work in a different way in each region. It means we have a different background in terms of what people know the brand for.
"The intention of using a centralised approach was to get a more consistent view of Eurostar and what it stands for, whether a customer is in Paris, London or Brussels."
The Eurostar "generation"
"What Eurostar is about, what it stands for, and what the brand has been able to create over the past 18 years is what we've been calling – way before easyJet – the Eurostar generation. This is the core target audience of people who live between our destinations.
What Eurostar stands for, and what the brand has been able to create over the past 18 years, we called – way before easyJet – the Eurostar generation.
"From the functional benefits and the strength of our products, we've been able to be more creative in our marketing. What we are trying to replicate with our approach now is to make the emotional bond we have with our customers much wider across our audience, demonstrating that Eurostar is about inspiring real connections.
"It's about getting these cultures, these people, these places together in something that is much more than just a train journey but is an experience in its own sake, because we know in depth why people go to our destinations, what they find and what they bring back as an experience.
"This is what we want to activate in everything that we do. We have been working on that brand promise since the beginning of the year, but this is the first big pan European iteration of it."
"Stories are waiting" is not a strapline
"The 'Stories are waiting' line is not a stapline, it is simply a creative way of expressing that real connection between people and cultures. We have a brand promise, values that underpin the promise and very clear tonality, but we do not have – and I don't think we need – a brand strapline. I'd rather build the emotion through the kind of advertising we're working on and think about a strapline maybe in a couple of years.
"A lot of the insights and stories in this campaign have come directly from our customers, too. We asked out loyalty members to send us their stories, and one of the potential consequences that we demonstrate as one of the possibilities in the film is finding the love of your life and having a baby, is because it actually happens a lot. It's reality."
A girl falling over in front of Burger King? That's London
"Some of the best brand work we have created over the year has been reactive. One print ad we ran in reaction to David Beckham moving to Paris Saint Germain played on the fact that Beckham's son Brooklyn is named after the place he was created, so UK ad showed the hand of a baby, and the tagline: 'Paris. After all David, it's the city of love'. The French ad played on the fact that Beckham had said he would donate his salary to charity, and used our leading price in the work, stating that the price of the Beckham transfer was €88.
"It's all about inspiring connections and saying actually, we know our cultures and we know how to play on them, and we want to make a connection with our audience by demonstrating this and triggering a smile.
"This new campaign is about showing that we know our destinations and using a bit of wit and irreverence to generate that smile. People have asked why we are showing a girl falling over in front of a Burger King? Well, because that's London. We could have not shown that in the ad if we wanted to have a postcard view of London, but if you want reality then why hide it? Actually, people travel to London to get that kind of experience."