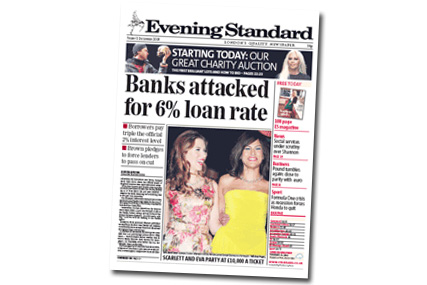 The paper, currently being promoted in the capital with a campaign apologising to Londoners for its previous editorial outlook, was down 6.4% year on year and 6.1% month on month, to record an ABC of 263,312.

This was despite the newspaper increasing its bulks, heavily discounted multiple copy sales that are then given away free by airlines, hotels and train companies, from 99,524 in March to 120,553.

Under the new stewardship of editor Geordie Greig and owner Alexander Lebedev, the Standard is due to change its name to the London Evening Standard from Monday, when it will also be handing out 650,000 free copies on the streets of London to relaunch the newly named paper.

To counter the plans by the Standard, News International-owned thelondonpaper, which held its circulation at just over the half-million mark in April, will be giving away 120,000 free Kit Kats with the free paper on Monday.

Thelondonpaper yesterday released its latest results that showed the paper has narrowed its losses from just over £16m to £13m, and increased its turnover from £8m to £14m.

After adding 7.4% to its circulation in March, free newspaper City AM again recorded a higher ABC figure for April, adding 2.7% month on month. This takes the title to 107,294, up 3.5% since April 2008.

Daily Mail and General Trust's free newspaper, the London Lite, recorded a figure of 400,387, up 0.3% year on year and steady month on month, while Metro maintained its position as the biggest of the London papers with an ABC of 734,488, down 1% on the year, but up 0.2% compared to its March figure.
Group-wide, incorporating all its regional editions including Metro Yorkshire, Metro Meseyside, and Metro South West among others, the Associated Newspapers-owned title recorded a combined ABC of 1,332,225.