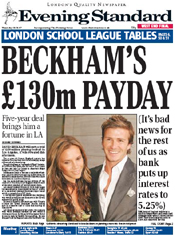 The title declined by the same percentage when the November ABCs were announced.
Veronica Wadley, editor of the Evening Standard, said: "The sales of the Evening Standard are stabilising despite an extra 800,000 free papers. The Evening Standard has a core loyal AB audience, which is a great credit to the quality and passion of its writers and columnists."
The new freesheet market continues to be led by News International's thelondonpaper, but its circulation figure has dropped from an average 425,508 copies in November to 410,898 in the December figures.
Its main rival, Associated's London Lite, increased its circulation from 395,048 copies to 400,692, as the battle for afternoon commuters intensifies.
The only morning freesheet in London, Associated's Metro, suffered a slight dip in circulation, down by 0.49% from 557,496 to 554,742, but this was counteracted by a year-on-year rise of 12.43%.
Financial title City AM, the remaining London freesheet, is now distributed to a total average of 81,774 Cityworkers.
If you have an opinion on this or any other issue raised on Brand Republic, join the debate in the Forum.