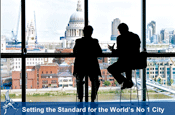 The money is being spread across elements such as a rebranding of the street furniture used by Standard vendors, new vendor uniforms and the Eros cash-less reward card that launched on Monday. About £3m of the investment will be spent on a broadcast media campaign to promote the changes over the next year.
Sixty of the Standard's 300 on-street sites will display the new livery from Monday - 200 should be revamped by November.
Ninety of the new units will eventually contain 32" LCD screens that are updateable remotely and can take day-part editorial and advertising messages - six of these will go live on Monday. Traditional news bills will still be a part of the new vendor units.
The Standard has also booked CBS Outdoor's digital escalator panels at key interchange points for the next 52 weeks.
Andrew Mullins, managing director of the Evening Standard, said: "The panels will allow us to talk to 3.5 million people 160 times per year."
The relaunch comes on the back of research commissioned by the Standard showing that, contrary to perception, most of its readers are based in Zones 1,2 and 3, not commuters travelling long distances out of London, or freesheet consumers based mainly in Zone 1. They are also more welcoming of advertising on the journey home from work, because this part of commuter time is perceived as "me time".
The average age of a Standard reader is 40, compared to 36 for Metro, and 34 for thelondonpaper and London Lite.
"Duplication between thelondonpaper and the Evening Standard is very low," explained Mullins.
The relaunch includes a refresh of the paper, which underwent a full redesign last year. Monday's changes will include a redesigned, better-signposted front page; more business content; and more interaction between the paper and the Standard's new web site (www.standard.co.uk). "Breaking news sells papers," said Mullins. "And editorial has the biggest impact on sales."
The Standard's previous This is London web site now becomes the entertainment part of the overall site, and a new trade web site went live this week at www.esadvertising.co.uk.
The Standard is also launching a product called The 1,000, which profiles the most influential people in London and will be launched at a high-profile party in the capital on 8 October. The product will have a column associated with it that will feature in the paper each week.