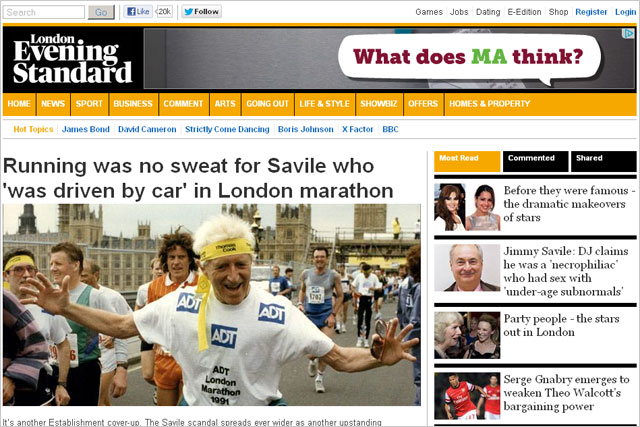 The Alexander Lebedev-backed Standard.co.uk reported total monthly users of 3,050,289 in September, down 21.41% on the previous month, according to September's ABC figures.
The Standard's website is a relative minnow compared to the national newspaper powerhouses of guardian.co.uk and MailOnline, as the Standard is viewed as a print-led brand.
However, such a big fall in monthly users will come as a blow to Standard.co.uk, particularly as September included part of the Paralympics, which should have drawn users to the website. The Standard's website was also down 18.99% average daily browsers.
The Standard's sister title, independent.co.uk was also hit badly in September, down 15.7% in monthly users to 16,306,316. That said, all the national newspaper websites endured a difficult month.
Across the rest of the market, the MailOnline suffered a September dip, down 3.95% in monthly browsers, to 101,545,466. In August, the MailOnline became the first newspaper site in the world to top 100 million unique monthly browsers.
The MailOnline is more than 35,000 monthly browsers ahead of second placed guardian.co.uk. Telegraph.co.uk was placed third and down 4.65% to 51,406,858 monthly browsers.
ABC multi-platform report: September 2012
Certified figure Sept 2012
Monthly change (%)
Daily avg
Monthly total
Daily
Total mth
MailOnline
6,366,625
101,545,466
-2.91
-3.95
Metro
311,032
7,465,333
-16.8
-13.85
Standard.co.uk
138,600
3,050,289
-18.99
-21.41
Guardian.co.uk
3,633,337
65,334,208
-4.8
-
The Independent
763,685
16,306,316
-15.95
-15.70
Mirror Group Digital
738,236
15,741,023
-12.07
-7.10
The Sun
1,564,206
26,475,302
-5.88
-7.32
Telegraph
2,679,920
51,406,858
-2.56
-4.56