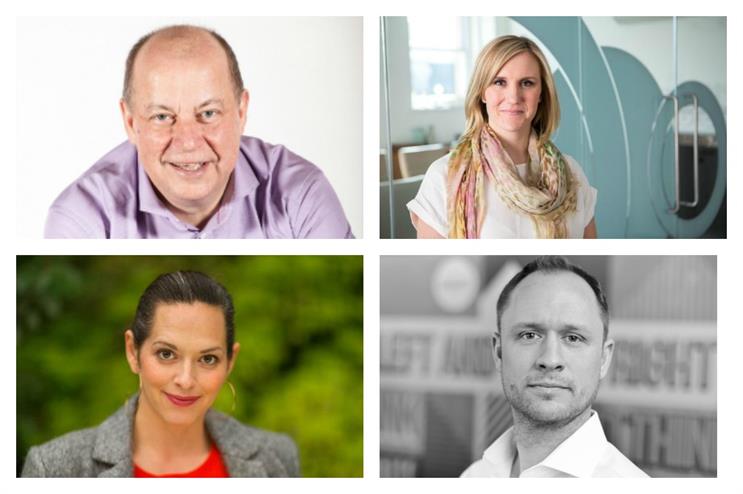 Adam Simpson, head of group sales, etc. Venues
Simpson has worked tirelessly on developing the events market for etc.venues. His focus has been on increasing awareness of etc.venues 155 Bishopsgate, and the soon to open etc.venues County Hall as locations for awards, events and dinners. As a result of his work, Simpson has doubled the number of awards and dinners booked at 155 Bishopsgate in 2016.
Aimee Okafor, director, Closer
Okafor has been a key player in the relaunch of Closer during 2016. Her approach has led to the development of a number of successful campaigns that have delivered both commercial success and industry recognition including work for Oreo, which won this year's Event Award for Best Disruptive Campaign. The Golden Oreo campaign, which Okafor was instrumental in creating, earned more than 1m social media posts, 396 pieces of editorial coverage. It also reached 47 million people, creating a value of more than £620k, a 6:1 return on investment.
Alastair Moir, Tonic
Working closely with sports agency Wasserman from early 2016, Moir and his team transformed Victoria House in Holborn into 'NFL House' for two weeks in October when American football made its 10th annual trip to London. Moir recruited and trained a short term on-site team to manage both the daily catering operation and run multiple events for NFL sponsors and clients during the International Series run.
Alison Williams, head of events, L'Oreal Professional Products UKI
Williams directly oversees and manages 10 brands within the L'Oreal UKI portfolio. This year Williams redeveloped the regional activity for the L'Oreal Colour Trophy UK 2016, the major live event campaign for L'Oreal Professionnel. As a result, the event achieved a 31% increase in the live event attendance across the activity, an increase of 37% on PR and an increase of 400% in the social media coverage vs 2015.
Andrew Casher, founder, Hyperactive London
Casher launched his new venture Hyperactive in July. Previously managing partner at Havas Cake, Casher started the brand experience agency as a joint venture with independent creative hot-house Fold 7. In the first five months of trading Hyperactive has produced multiple projects for Eurostar, Tag Heuer and Carlsberg with Fold 7. Work has included experiential, VR content production, sponsorship activation and influencer collaborations.
Andy Dougan, head of experiential and growth, Geometry Global
Dougan has helped Geometry Global to achieve significant growth in the scope and strategic importance of experiential briefs, both across the agency's global network and also with its agency partners. His stand-out event of 2016 was helping The Royal British Legion to extend its physical retail presence through a series of pop-up Poppy Shops. The first two pop-up shops that were trialled raised more than £100,000 for the charity.
Anthony Ganjou, CEO, Curb
Ganjou delivered the largest acquisition of a UK experiential agency (Curb was acquired by Chime's CSM Sport & Entertainment earlier this month), and has also developed two other companies in the event and OOH industry, which has achieved significant growth this year. Curb was also appointed as Virgin Media's official stunt agency and delivered a 100m digital running track, which sailed down the Thames. He also oversaw a male suicide awareness charity campaign with Lynx that won a Cannes Lions and stimulated a parliamentary debate.
Anupa White, director, Principal Global Events
Principal Global Events is on target to exceed £10m in turnover and White has been the driving force behind four major pitch wins for Principal London DMC. This has seen them welcome over 7,000 international delegates to London, surpassing client expectations with the creation of innovative brand-led event experiences that showcased the best of London and offered a taste of Britain.
Ben Turner, founder and managing director, Wonder London
Since Wonder London launched four years ago, the company has grown year-on-year and has worked with major global brands including Google, YouTube, Android and Kipling. Business has grown by 78% and the size of the agency's team has doubled in size in the last 12 months. Turner was instrumental in the success of GCPNEXT16, Google Cloud Platform's global user conference tour, which bought together 3,500 coders, developers and IT decision makers from across EMEA markets.
Carlo Zoccali, account director, Farnborough International
Prior to joining Farnborough International this month, Zoccali led the Arsenal meetings and events team to deliver 642 events last year, increasing profitability by 246% – the greatest profit margin since the opening of the venue in 2007.
Carly Mitchell, managing director, Ultimate Experience
Mitchell became the managing director of Ultimate Experience at the beginning of 2016. Her highly motivated team ran 50 events this summer and received overwhelmingly positive feedback, so much so that over 60% of clients have already re-booked for summer 2017, with another 15% holding dates.
Caroline Gleisner, senior account director, Lodestar Events and Experiential
Gleisner's work on Jeep's activation at Farnborough helped to deliver more than 12,000 courtesy car drives on site, 1,300 test drive experiences, 227 customer leads, 42 test drive requests and 350 brochure requests.
Caroline Jackson, lecturer, Bournemouth University
Jackson facilitated a BVEP (Business Visits and Events Partnership) event that highlighted the importance of bringing the events industry together for an industry leaders meeting, with the aim of increasing the events management industry's professional profile. This single meeting has contributed to the understanding of the new apprenticeships scheme and brought industry leaders together to agree a united way forward that this broad industry is in favour of supporting.
Catherine Borowski, managing director, Produce UK
Produce enjoyed phenomenal growth in 2016 (over 600%) led by Borowski. New business wins this year have delivered £3.5m of revenue and secured brands including Hyundai Motor UK and campaign organisation 38 Degrees - plus consultancy for two major UK developers.
Catherine Botibol, owner and creative chief, Pd3
Botibol has created enviable immersive experiences that inspire yet clearly deliver their brand message. Her 2016 highlight was working on Save the Children's Forced to Flee event.
Catherine O'Brien, head of experiential, M&C Saatchi Sport & Entertainment
Catherine has worked at M&C Saatchi Sport & Entertainment for 19 years where she now heads up the experiential department, delivering cutting edge campaigns for the likes of Ballantines, Coca-Cola and Adidas.
Celia Forshew, founder, Seed
Seed is a modern marketing agency with a student specialism. On top of its work for Spotify and Budweiser, Seed has won a global campaign for Asos (delivered in five territories), Amazon and a UK-wide student tour for Soap and Glory. The company has also seen a 60% growth, following its busiest year to date.
Chris Russell, founder/MD, Tribe/Playmaker
Russell co-founded Tribe with Michelle Lombardi in 2011 and has grown the business from a staffing agency to one that now delivers integrated experiential campaigns. In 2015, it partnered with agency Square Melon to create a new experiential agency known as Playmaker. Russell has overseen cutting-edge experiential campaigns for major global brands including Coca-Cola, Nestle Cereals and Aero.
Claire Andrews, marketing director, Mazda UK
Following its success in 2015, Mazda brought its 'Raise the Roof' activation back to the Goodwood Festival of Speed in June. The live music event created standout for the automotive brand and allowed it to share the fun-to-drive ethos of the Mazda brand, simulating the happiness and feel-good sensations of an open-topped summer drive.
Claire Stokes, founder and managing director, Circle Agency
The last 12 months has seen Circle Agency grow 35% year-on-year, and bolster its client roster with a impressive roll-call of new clients, including Jordans/Ryvita, Le Creuset, Orbis Access and Play-Doh. Stokes was integral to Circle's latest experiential campaign for PlayStation UK, which saw the agency introduce consumers to the immersive world of PlayStation VR. The Future of Play Tour featured a series of pop-up experiences, ranging in size from 4,500 to 8,000 sqft, each requiring a bespoke fit out in a short space of time.
Dale Parmenter, group chief executive, DRP
Parenter was recently honoured as a Fellow within the EVCOM association at this year's Fellowship Awards. He has also helped DRP to grow by 6% to £14.5m in 2015, and gross profit has increased by 13% to £9m. The company has also won 16 industry awards and successfully delivered more than 700 events.
Damian Clarke, founder and managing director, Undercurrent UK
In 2015-16, revenues at Undercurrent have increased by 49% year-on-year and the agency has secured five new long-term accounts. Clarke has created two experiential business start-ups and purchased a business, bringing the group of companies to four agencies in total. Clarke headed up a campaign for Samsung to engage and excite call centre staff about its new smartphone products. The experience engaged 95% of sales agents – 11,125 in total – and massively exceeded the target set by the client of 75%.
Dan Keene, managing partner, Slice
In 2016 Keene delivered the key experiential component of a campaign to raise the profile of the London Cycle hire scheme for Santander. The 'Spin Up' series of seven events sold out in less than 15 minutes. The influencer programme reached over a million people online. Keene also worked with The London Evening Standard (LES) to make its flagship event, The Progress 1000 Awards, its standout event within its portfolio.
Dan Schofield, head of operations, Manchester City Football Club
Schofield created a successful concert season during 2016, which increased club revenue by record amounts. His meticulous attention to detail with planning led to a programme of sold out events.
David Balfour, managing and creative partner, Lightblue
Lightblue was tasked with creating an exclusive event that invited regional PlayStation media and bloggers on an adventure, which involved a city-wide quest across Kathmandu in Nepal. The activation generated 350-plus social media posts for PlayStation Middle East, that were engaged with by 175,000-plus fans across the weekend.
Deborah Armstrong, founder and creative director, Strong & Co
This year Strong & Co has created multiple, new live experiential showcases for Twitter, Beano and Warner Bros. The Beano Live Experience was Beano's first ever live immersive experience, where audiences were taken from paper history to digital future. The experience's success has led Strong & Co to help the brand to develop a public show, which will generate new revenue streams and PR.
Dharmesh Rana, senior brand manager, Carlsberg
Rana has held his current position for eight-and-a-half years, and last year saw the brand actively enter the world of experiential marketing with its inventive drinkable billboard in Shoreditch. This year Rana has worked on The San Miguel 2016 Rich List.
Comment below to let us know what you think.
For your daily hit of news from the brand experience community, weekly brand and inspiration updates or your monthly trend download, register and subscribe to Event and our bulletins.