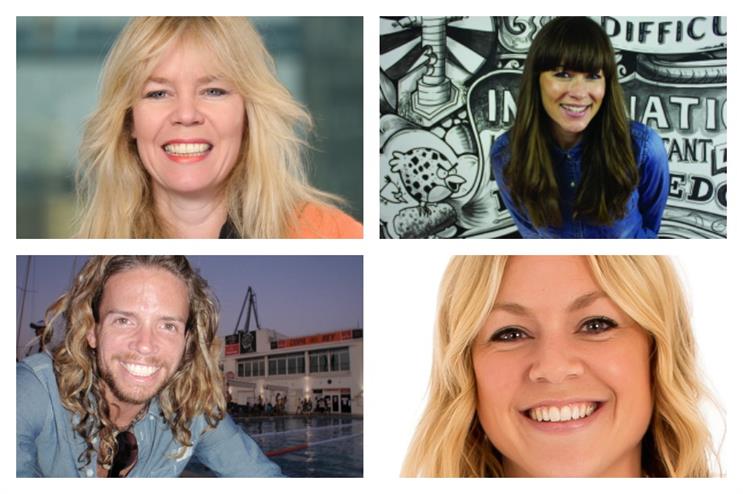 Rachel Bateman, Head of Live Engagement, Initials
Bateman has joined the Initials leadership board after a steady progression at the agency. She played a fundamental role in shaping the agency's experiential provision to live engagement, as well as delivering newsworthy campaigns that provided engagement in the live environment and beyond. These included: Jeep's Batman v Superman film partnership activation, Fiat's charity partnership activation, Walkers' pop-up crisp restaurant and Naked Juice's festival activation.
Rachel Waterfield, Head of Sales and Marketing, Hawthorn
Waterfield has overseen the implementation of the Hawthorn company's new brand and has helped to deliver a period of growth. In addition, she has built an in-house marketing team from scratch, facilitated relationships with key agencies, venues and industry partners and supported the company's technical team to secure events for a huge raft of big name brand clients, including Adobe, BBC Worldwide, Herbalife, Hay Festival, Huawei and Bloomberg.
Richard Dodgson, Founder and Chief Creative Officer, Timebased Events
Dodgson has nurtured long-term relationships and had the vision to create new opportunities, and this year his company welcomed its 20-year anniversary. Dodgson's leadership has led the company into its fifth year of growth. Highlights include Charlotte Tilbury's Scent Of A Dream event, which Timebased Events designed and produced.
Rick Stainton, Managing Director, Smyle Group
Under Stainton's direction, Smyle Group has seen extensive growth over the past year. He has also been integral to the acquisition of Pumphouse Productions and the winning of new clients including Google, Dropbox, Viking Cruises and Hitachi. In addition, he has delivered support across the industry for the Sustainable Events Summit live event, which he co-founded in 2013. Together with PR agency Edelman, Stainton played a critical role in launch of the largest vessel ever to come through the Thames barrier – the Viking Sea cruise ship.
Ruth Lawton-Owen, Director, The Admirable Crichton
Lawton-Owen has brought a number of high profile clients and venues to The Admirable Crichton (AC), including the 100 Years of BMW activation, charity events such as a series of parties for One for the Boys and Great Ormond Street Children's Hospital, and hospitality events for the US Government during the Farnborough Airshow. She was also instrumental in winning back a series of events for HH Sheikh Mohammed bin Rashid Al Maktoum, as well as gaining the agency accreditation at Westminster Abbey.
Ruth Weldon, CEO, The Bulb
Having only co-founded the sustainable events agency earlier this year, Weldon has helped to disrupt the way the events industry approaches its events. She has made a positive contribution to minimising the environmental impacts and maximising the social impacts within the industry. She took on the role of project leader for logistics for two international festivals based in Barcelona and Las Vegas for Redken haircare and styling products, and oversaw crowd management, as well as being responsible for sourcing, managing and controlling all Redken artists and vendors and their production logistics across the seven-day build, show and de-rig.
Sam Moqbel, Managing Director, MARS Events
Moqbel was instrumental in delivering the UK's biggest five-a-side championship for Samsung. In addition, he managed the full delivery of the Samsung Elite training initiative across the UK. The programme creates knowledgeable and enthusiastic phone shop staff to drive sales of Samsung devices.
Sam Welply, Company Director, Wellpleased Events
Over the past 12 months, Welply has directed 64 events across four countries. He has played the role of event director for the launch of Victoria at John Lewis in Leeds, overseeing experiential activations from all major brands including Anthropologie, Berry's, Calvin Klein, Charbonnel et Walker, Diesel, Gant, Hackett, Harvey Nichols, Illamasqua, Jack Wills, Nespresso, Sweaty Betty, Tesla and Pretty Green.
Sara-Ellen Williams, Head of Events, Queen Elizabeth Olympic Park
Williams was crucial to delivering the Shell 'Make The Future' festival, which welcomed an attendance of 35,000. She coordinated the two-week build period, managed the four-day festival, as well as the internal and external negotiations with multiple partners to ensure both local and wide-ranging support for the event. The Olympic Park's events programme ranges from costly brand experiential activations to small community events, and Williams has lead this programme, delivering a footfall of more than 500,000 visitors across 60 events in the many different event spaces at the Park.
Sarah-Jane Benham, Managing Director, Kru Live, Kru Talent & The Staffing and

Entertainment Collective
Since coming seventh in last year's Event 100 Club, Benham has helped to grow business beyond its targets, won gold at the Event Awards, conducted a successful business relocation and developed international business relationships, and again exceeded targets.
Sarah Priestman, president, Sense New York
Priestman joined Sense in 2006 and rose through ranks to be appointed Board Member in 2010. The past 12 months have seen her return form maternity leave to develop Sense's internal people proposition and lead multiple new business pitch wins, including securing the Economist US contract. As a result of this win, Priestman will be relocating to New York to lead Sense's US business in 2017, heading up the agency's first international office. The past few months have seen Priestman get under the skin of the international marketplace, lead the relocation planning and develop a global network of partners, talent and new business prospects.
Selina Donald, CEO and Founder, The Bulb
Donald co-founded The Bulb, an agency that specialises in sustainable event production. Most recently, she was responsible for the overall event programme and management of the British House during the Rio Olympics 2016. She delivered a programme of 22 events over 19 days, each of which showcased the UK's proficiency at sport. The House was a resounding success, with over 8,000 attendees celebrating with Team GB athletes and the social media conversation reaching 12.7 million.
Sharon Richey, CEO, BEcause Experiential Marketing
As the driving force behind the success of BEcause's global partnership scheme, which launched this year, Richey has overseen the agency enter a new market. As a result of her tireless commitment to extending the agency's reach, BEcause is poised to announce three further launches in the new year. Richey is a dedicated mentor and believes in supporting the next generation of top marketers and elevating the understanding of experiential's growing importance for brands. Under her direction, BEcause has seen success with campaigns for Continental Tyres, Qatar Airways and WWF-UK.
Simeon Aldred, Creative Director, Vibration Group
Aldred and the Vibration Group launched The Printworks in November, helping to create a new events space in Canada Water. The venue has already hosted the Mulberry 2017 fashion show, and is set to host a series of 50-plus electronic music events in the new year. Under his's creative direction, The Vibration Group hit a £30m turnover growing over 40% in less than a year and now employs 70 full-time staff. Aldred's proudest experiential moment is the three-day vintage cycling festival, during which he led the company to exceed sales figures and hosted 5,000 riders and 30,000 guests.
Simon Burton, Managing Director, Exposure Communications
Burton has successfully launched a number of activations this year, including World Street 3s, Charity Film Awards and The Event Professional's Handbook. For each of these events, if he was not the lead individual, he was crucial to developing the concepts for each project. He negotiated partnerships, sponsorships, created successful marketing campaigns and engaging social media activations. He also worked to grow his agency, and managed Citizen Event - the free event professional's networking club.
Stuart Bradbury, managing director, Avantegarde
BUnder bradbury's direction, Avantegarde has seen international business wins, investment in team growth and and integration of new cutting edge business management systems. Profile wins include Honda, Ebay and YouTube, and the agency was also awarded C&IT's Global Agency of the Year award. Bradbury was responsible for the successful delivery of Honda European Motorshow. The contract covers the delivery of events in Frankfurt, Geneva and Paris.
Tom Johnson, Head of Events, M&C Saatchi Experience
Johnson has successfully taken the three-year-old agency to the East and West coast of the US and France, while increasing UK revenue by 30%. Under his direction, the M&C Saatchi Experience team created an experience for Virgin Holidays, which was nominated for numerous awards, delivered significant business impact for the client and achieved outstanding coverage across significant mainstream media.
Tom Scott, founder and head of innovation, CreateLondon
Scott has continued to push the boundaries of technical innovation through his agency CreateLondon. Grown organically from the ground-up with zero investment the team has grown to seven producers and technicians who are the best in their field. In 2016 the team worked on an array of innovative experiential activations, winning multiple awards for innovation, social powered vending and production.

Toni Griggs, Chair of ILEA EMEA and

Sales and Marketing Manager of

George P Johnson
Griggs has been critical in developing new relationships and opening new chapters for the association, as well as strengthening relationships across the globe. She has represented ILEA EMEA in Canada, Dubai, Germany, Russia, Scotland, Spain and the US. In addition, Griggs is the first female candidate to undertake the role of ILEA EMEA chair, and continues to exhibit commitment to the association and extensive professionalism. She was a key member of the planning and delivery committee for the annual ILEA Accelerate conference held in London in May 2016, played a pivotal role in delivering an Opening Party at Ministry of Sound and contributed to the Creative Disruptors Awards as a key volunteer on the planning committee.
Tracy Halliwell, Director of London Convention Bureau and Major Events, London & Partners
Halliwell provided the overall framework for the continued development, creation and attraction of major events in London, including Lumiere, Ride London 2016 and London Tech Week. She is committed to and plays an important role in the UK events industry, which has culminated in her appointment to the new Event Industry Board. The board's objectives include increasing effective cross-working across government departments, identifying international events to be held in the UK and supporting existing events.
Zanine Adams, Head of Events & Business Development, London & Partners
This year Adams has achieved £21m in economic benefit for the hugely successful London Tech Week 2016, which itself hosted 300 events across 200 venues. In 2017, Adams and her team will work to make LTW a bigger and better experience. She and her team managed to secure the world championship finals of the Drone Racing League, at Alexandra Palace, which will appear in London during London Tech Week 2017.
Zoe Snow, Director and Live Event Producer, Gary Beestone
Snow specialises in creating live events that include elements of experiential, theatre, sport and outdoor. She was recognised as the 'Outstanding Achievement Producer' at the British House Rio. Snow and her team managed more than 350 guests a day and delivered a programme of 22 events for HMG across business, science, culture, education and technology. In addition Snow delivered high profile victory moments for Team GB medallists at the House. She was also crucial to the delivery of The Widow Series for Veuve Cliquot. She delivered an integrated and immersive performance piece, ensured that the performance elements worked around the Veuve activation and managed brand visibility.
See also: Event 100 Club 2017 shortlist: Entrants A-D
Event 100 Club 2017 shortlist: Entrants E-I
Event 100 Club 2017 shortlist: Entrants J-L
Event 100 Club 2017 shortlist: Entrants M-P
Comment below to let us know what you think.
For your daily hit of news from the brand experience community, weekly brand and inspiration updates or your monthly trend download, register and subscribe to Event and our bulletins.