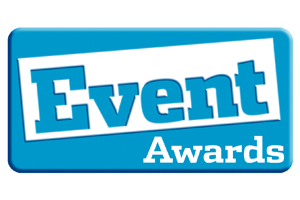 Act of the Year
To be announced on the night
Best Brand Activity at a Festival or Public Event
(heart) productions limited: Barclaycard PayBand @ Barclaycard Wireless Festival 2012
Absolute Radio: BT London Live in Hyde Park - Absolute Radio Live
KBW LTD: BP 'Walk in the Olympic Park' experience, Olympic Park Stratford
Marks & Spencer: M&S Agricultural Shows
PrettyGreen: Cadbury House Hyde Park
TRO Group: Lucozade Energy Festival Activation 2012
Best Brand Experience Event
Ignite Europe: NFL International Series 2012
Jack Morton Worldwide: BP Technology Experience
Jar London: Cambalache: One Night in Argentina
Limelight Sports: Energizer Night Run
Slice: Windows Fast and Fun Slide
TRO Group: Guinness Class
Best Christmas Party Package
Awesome Events: "Cirque de Noel presents Extraordinaire" at The Bloomsbury Big Top
Evolve Events: Black and White Ball at Kent House Knightsbridge
No.11 Cavendish Square Party Package
Smart Christmas Parties: Nostrovia Christmas Party Package
Vivid Experience's Christmas Parties at The Roundhouse, Derby
Best Conference or Internal Staff Event
Concerto Live: The Magic of Growth Conference
Iris: Iris On Show
La Gloire: We Care We Innovate
Marketing Options International: Oracle Financial Services Leadership Global Summit
Smyle: Annual Dealer Conference 2012 - Peugeot Citroën Automobiles UK
Top Banana: Danone Baby Talk Live 2013
Best Exhibition
BBC Haymarket Exhibitions: BBC Good Food Show Winter - NEC Birmingham
Cultural Communications: Masterpiece London
Haymarket Exhibitions - Clothes Show Live
Media 10: Ideal Home Show at Christmas
Sledge: Make it in Great Britain
Best Integrated Event Campaign
Ignite Europe: EDF Energy of the Nation
Iris: #NEORUNWAY
MGA Group: All The Bells
PrettyGreen: Cadbury House Hyde Park
psLIVE: The U Experience
Best International Event
Brand Events: Top Gear Festival 2012
Cascade Productions: Light up the High Street: Iceland Managers' Conference 2012
Crown: Sony Iceland Digital Imaging Press Event
Iris: #NEORUNWAY
Marketing Options International: Oracle Financial Services Leadership Global Summit, July 2012
Best Launch Event
Brand Events: Top Gear Festival, Durban 2012
Brand Events: CarFest 2012
Experience Worldwide: BlackBerry Z10
Imagination: 'Making history', Ford Go Further
Iris: #NEORUNWAY
Best Outdoor Event
Festival Number 6
Limelight Sports: Royal Parks Foundation Half Marathon
Line Up: The Olympic Torch Relay 2012 - Coca-Cola City Celebrations
Logistik: BT House at BT London Live
Projection Advertising: Enough Food For Everyone IF
Vision Nine: Olympic Torch Relay Celebrations
Best PR Event or Stunt
Ear to the Ground: THE CORAL NATIONAL
Fever: Launch of the Jackpotjoy FUNdation
Ignite Europe: EDF Energy of the Nation
Tricker PR: Save Our Dram
Clarion Communications: The Coldest Gig Ever
Best Sustainable Initiative
15Hatfields: Help the birds and the bees - go wild and sow your seeds!
Bluman Associates: Imogen Heap Earth Day
Global Sustainable Event Summit Partnership: Sustainable Events Summit
Best Teambuilding Activity
Animate & Create: How 'alive' are you? - Jaguar Team Building Event
Bluehat Group: Group Graduate Development Programme
Communique Promotions: Brandstock 2012
Darkstar Events UK: EE Race to the Summit
DRPgroup: ENRC 150 Group Conference
Brand Experience Agency of the Year
Ear to the Ground
Ignite Europe
Jack Morton Worldwide
Limelight Sports
WRG Creative Communication
Caterer of the Year
Absolute Taste
Ampersand Events
Purple Grape
Richmond Creative Events
Smart Hospitality
Creative Event of the Year
At-Bristol: In The Zone Travelling Exhibition
Concerto Live: The Magic of Growth Conference
George P Johnson: Connected City
RPM: Sky Skills Studios
Sledge: O2 Retail Expo
Event Industry Supplier of the Year, Security, Staffing and Crewing
Beautiful Minds Promotions
Circle Agency
Gallowglass
Mash Staffing
Metro Hospitality
Showforce
Event Industry Supplier of the Year, Theming, Furninture and Dressing
Loos R Us
Oasis Events
The Icebox
Event Industry Supplier of the Year: Production, AV, Sound, Lighting, Set Building and Technology
ADI.tv
Arena Group: Arena Group
DB Systems
GL events Slick Seating
Quantum Special Effects
Event Space of the Year - Large 700+
Alexandra Palace
Barbican
The Boiler House at Battersea Power Station
The Natural History Museum
The O2
Event Space of the Year - Medium 301-700
Kings Place
Imperial War Museum North
The Roundhouse (Derby)
The Roof Gardens
Troxy
Event Space of the Year - Small under 300
Audi City London
Clissold House
IET Glasgow: Teacher Building
RSA House
Exhibition Feature Area or Stand
Haymarket Exhibitions, Clothes Show Live: The Fashion Theatre
UBM Live: The Live Lounge at International Confex & Live Experience
UBM Live: TFM&A's 3D Experience
UBM Live: Discovering the Internet of Things
TRO Group: Nissan Built to Thrill
Exhibition Organiser of the Year
Shortlist announced on the night
Exhibition Venue of the Year
Abu Dhabi National Exhibitions Company
Business Design Centre
Olympia London
Excel London
Sandown Park Racecourse
Ricoh Arena
Production Agency of the Year
Event Concept
Fisher Productions
INCA Productions
Smyle
The Fresh Group
Rising Star
Penny Law, CloserStill
Ian Hayne, Limelight Sports
Lucy Watson, Stepladder Worldwide and sevens7
Emma Corbett, UBM
Venue Team of the Year
Business Design Centre
Kings Place Events
The Roundhouse Derby Events Team
Science Museum
The Natural History Museum
Warren House
To find out who has won you'll need to be at the Event Awards 2013 ceremony, taking place on Friday 4 October at the Roundhouse in Camden.
For more information on the ceremony and to buy tickets, visit Eventawards.com. To get all the latest updates on the awards follow @EventAwards.
Follow @eventmagazine