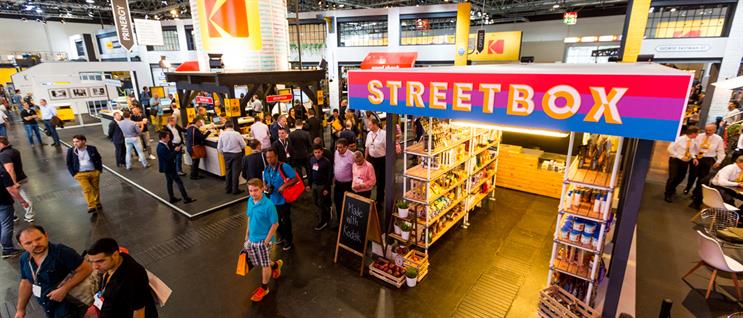 WINNER
The Kodak Quarter
Jack Morton Worldwide
---
To dramatise how Kodak was reinventing itself as the go-to brand for creative minds in the print industry, Jack Morton Worldwide looked at how the industrial hearts of cities continue to undergo a similar transformation.
This was the inspiration for the brand experience the agency created for Kodak at Drupa 2016, the world's biggest show for printing professionals. The Kodak Quarter was a vibrant, regenerated city-hotspot experience for an equally re-energised brand – a place where print buyers, who are creatives at heart, would feel comfortable.
An effective template
The experience provided an innovative way to demonstrate technologies and solutions, including a multitude of print products all produced on Kodak equipment. For example, a mini-mart held varied samples of product packaging; an art gallery space featured luscious poster prints; and a newsstand held all kinds of paper and magazine prints.
The Kodak Quarter enabled Kodak's Print Services division to achieve 187% of its sales target. What's more, 31% of all Drupa attendees spent time at the stand, and more than 33% of stand visitors spent over 10 minutes with the brand.
During the course of the show, 2.6 million mentions of Kodak's presence at Drupa were generated on Twitter. Most importantly, 2,847 leads were captured at the show, with 128 letters of intent and 156 contracts signed.
The Kodak Quarter has been used by the brand as the template for other important brand experiences, including the Consumer Electronics Show in Las Vegas and The Kodakery, a pop-up shop in London's Soho.
Highly Commended: NESA Cyber Quest 2017 - Action Impact
In April 2017, Action Impact delivered a showpiece event for the United Arab Emirates' National Electronic Security Agency (NESA) as the culmination of its year-long training and events programme to increase awareness of cyber security.
The event brought together more than 2,000 students from across the UAE for a multi-sensory experience featuring interactive workshops, themed environments, secret spaces, immersive lighting, and a real-time competition.
The event space was designed as a futuristic Cyber City and students spent the day exploring the space, helping to save the city by taking part in four levels of educational workshops, foiling villains as part of the event narrative: "There's a superhero in everyone."
Highly Commended: Adobe Summit 2017 - Taylor Bennett Partners
Adobe briefed Taylor Bennett Partners (TBP) to deliver a two-day marketing conference that showcased the brand as the undisputed leader in digital marketing.
TBP installed 1300 LED panels – the highest number of pixels ever suspended in the UK – in the ceiling of Excel London to create a digital canvas in the roof. Delegates were able to interact with this through an OLED screen that enabled them to pick the content displayed above their heads. A "digital landscape"-themed party featured a futuristic landscape of digital trees, virtual-reality experiences and a spectacular interactive projection-mapped waterfall.
More than 5,000 attendees came from 60 countries, representing 63% of Adobe's entire half-year pipeline; 94% of attendees said they would recommend the Summit to their peers.
Finalists
Diageo World Class 2016 – TBA
Google Cloud Next '17 – Wonder London
ITV Studios House @ Mipcom, Cannes – ITV Studios
Microsoft Future Decoded 2016 – Momentum Worldwide
YouTube Beach – SET Live