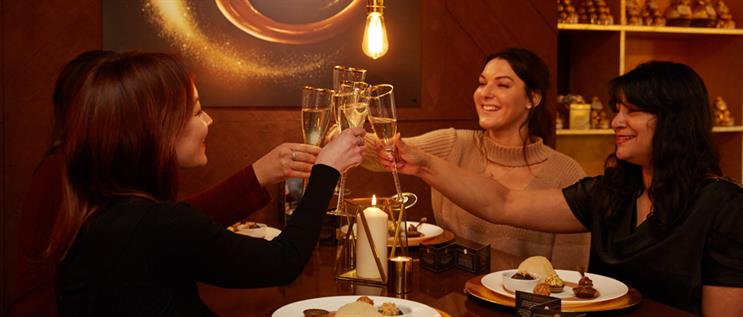 WINNER
Dolce by Ferrero Rocher
TraceyLocke
---
Dolce by Ferrero Rocher was a luxury London pop-up dining experience that reminded chocoholics of what sets the brand apart from its many competitors: the combination of indulgent layers that provide its unique taste experience.
This was a revolutionary approach for both the brand and the category: replacing the traditional low-engagement, mass-sampling approach with a high-end, indulgent dining experience.
A taste of luxury
Guests were invited to rediscover the taste of Ferrero Rocher at the Covent Garden experience, where five indulgent mini-desserts represented each layer of the iconic chocolate. The tasting menu concluded with a Ferrero Rocher itself.
Each course had been designed with an "Instagrammable moment" in mind, from the pouring of the molten chocolate over the desserts through to the glittering photo wall, encrusted with more than 4,000 Ferrero Rocher. Fully branded rickshaws transported press and influencers to the event, while the envy-inducing video content ensured that the campaign had optimum amplification.
The brand's concept was so popular that the event sold out within 24 hours of its announcement. More than 3,000 visitors paid to discover the product's indulgent layers, while #DolceByFerreroRocher engaged 1.46m people online and video content reached more than 11.1m – smashing the 8.8m target by more than 26%.
Highly commended: Nike Strike Night - XYZ
Nike's debut Strike Night was an audacious live experience featuring Europe's top six elite football goal-scorers going head-to-head in the ultimate of penalty shoot-outs, combined with a one-hour Facebook Live show.
Dubbed "Fight Club for football" by lead agency XYZ, which designed and built the set and ran the event on the night, Strike Night was aimed at transforming the launch of the Nike Hypervenom 3 boot into a cultural moment while achieving the highest level of digital engagement among target audiences, including football-obsessed teens.
About 400 invited guests were welcomed to the secret London location to be a live audience, alongside almost half a million live viewers via Facebook Live.
Highly commended: The Stolen Goods Shop (M&C Saatchi Experience)
Ageas turned to M&C Saatchi Experience (MCSE) and M&C Saatchi PR with the launch of a new insurance brand, Back Me Up (BMU), designed to meet the needs of millennials.
The UK's first Stolen Goods Shop, created by M&C Saatchi Experience, opened on London's Brick Lane, chosen as an area of high millennial footfall and one of London's major pickpocketing and bike theft hotspots. The shop was stacked floor to ceiling with valuable possessions stolen from the targeted audience.
The theme of theft was executed throughout the scenic experience, down to the intricate details – including surveillance cameras, an interrogation room and mugshot photo booth, along with evidence markers and foot prints. Back Me Up representatives and shop assistants communicated the brand and context of the activity.
Finalists
Bombay Sapphire – The Grand Journey, Wasserman
The Bose and Mercedes AMG Petronas F1 Virtual Garage, Synergy
Triumph Motorcycles Bonneville Bobber Launch, DRP
Walkers Crisp Sarnie Club, Initials