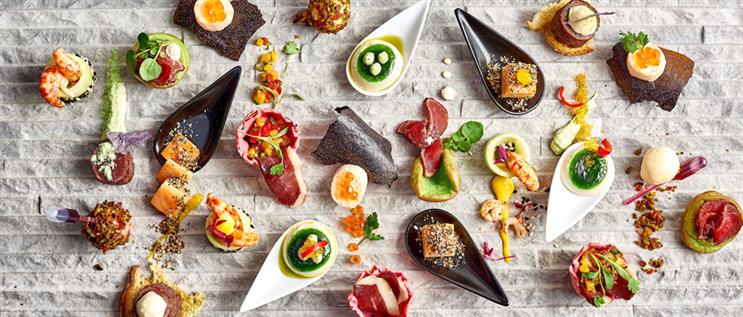 WINNER
Create Food
---
Having spent 2015 rebranding and evolving its food offering, Create Food focused on further developing its brand in 2016, driving the business into new areas and building public awareness.
It successfully added five London venues to its portfolio, giving clients a more diverse choice, and secured a partnership with industry specialists Feast It, broadening its offering to include gourmet street food.
Innovation on the menu
Create's culinary development team works tirelessly to create new concepts and menus that fit clients' briefs perfectly. A highlight was catering for retailer Superdrug's charity extravaganza at the Roundhouse, where guests were served canapes including seared tuna tomato marmalade and fig and goat's cheese panna cotta with thyme and hazelnut crumbs. The menu featured a main course of roast lamb rump with minted dauphinoise potato, burnt broccoli purée with ratatouille tomatoes and a lamb stock, or roast chestnuts with smoked bread purée, BBQ onion, split cranberry vinegar and sage oil sauce.
The business also created new and engaging content on its website and social platforms. This resulted in an increase in unique visits to the website from 26,284 in 2015 to 42,833 in 2016, in turn leading to the highest number of monthly event enquiries to date.
New hires have included a concept development manager who is passionate about food with an unrivalled knowledge in the industry, and a full-time wedding planner to provide further support to clients throughout the entire wedding planning process, which resulted in a 20% increase in bookings for 2017.
Highly Commended: Boulevard Events
Highly Commended in this category for the second consecutive year, family-run business Boulevard Events successfully created bespoke high-quality menus for 2,000 guests across five events on a single day in 2016, served by more than 120 staff.
Boulevard provided more than 7,700 individual dishes, from yogurt and granola breakfast pots to roast loin of lamb with Navarin sauce, and Indian wraps served at street-food stations to roast loin of venison with chestnut rösti and celeriac purée canapés.
To create new enquiry streams, Boulevard focused on producing creative content on social media, including a show called Battle of the Chefs, which has had had 12,000 online views, and posting daily content for Instagram, increasing its following from 200 to 2,500.
Finalists
Clement Worrall
Grazing Events
Tapenade