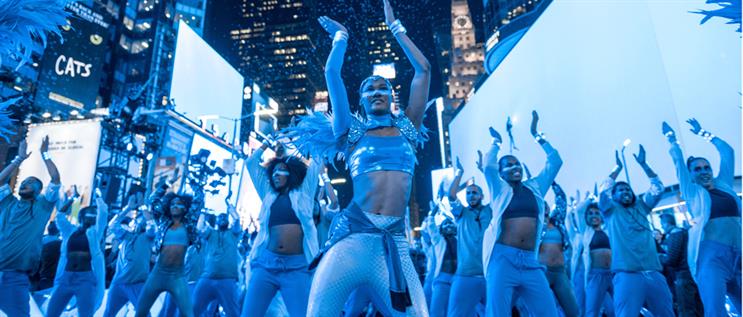 WINNER
Samsung Galaxy S8 Launch - Unbox Your Phone
Wasserman
---
Creating a cultural moment amid the clutter of New York's Times Square is a challenge many brands have sought to overcome, but the winner of this year's Creative Event of the Year award delivered a moment of experiential and digital beauty to be applauded and remembered.
To promote its new Galaxy S8 device, Samsung turned to Wasserman to deliver an awe-inspiring spectacle that would bring to life the brand's ATL creative with an on-the-ground activation that extended the conversation online.
Wasserman focused on the S8's infinity screen and played on the idea of a screen without limits, a billboard without limits and, in turn, a limitless world.
High ambition on the High Line
This ambitious project stretched from Times Square all along the High Line, using 42 connected billboards to create a stunning seascape, with a diver in the middle of a vast ocean, who suddenly found himself face-to-face with a giant whale. The whale swam from one billboard to the next, to completely immerse people in a seascape, while 110 performers engaged 126,000 New Yorkers.
Custom projection mapped billboards and a 25ft hologram along four blocks of the High Line, led to Samsung's own brand space at 837 Washington St. Samsung's chief engagement officer, Werner Brell, described the event as "the epitome of new age events: an experience where the physical experience equals content output with global reach. We extended ATL to the long tail social universe. This experience was a proof point for experiential."
Undoubtedly, New Yorkers and trendhunters will long remember the day the whale swam along the High Line.
Highly Commended: RE7: The Experience - M&C Saatchi Experience
To celebrate the launch of video game Resident Evil 7: Biohazard, M&C Saatchi Experience and M&C Saatchi PR created a 45-minute immersive horror-house-meets-escape-room event for media and consumers to drive mainstream buzz and sales.
Over four days in Shoreditch, members of the public were invited to enter the house on a limited first come, first served basis. Guests were thrown into the terrifying "real-life" experiences that unfolded around them and had to solve challenging puzzles through the physical exploration of each scene, including creating poisons to sedate the actors as well as antidotes to heal the "wounded", with the primary aim to escape the house "alive".
The Sewergators lounge also opened, welcoming the public to play the game with a beer, courtesy of drinks partner Kirin Ichiban. Finally, to celebrate the launch night of the game on 24 January, Gingerline delivered an immersive dining experience for key journalists, stakeholders and trade.
Finalists
"Pitches, Pearls & Pandemonium: a Day in the Life of a 1960s Ad Agency" for Allied London, Carousel & Shuttlecock
Bombay Sapphire – The Grand Journey, Wasserman
Chill Your Senses Cold Craft, Fuse
Diageo World Class, TBA
Make The Future Live, Shell and Imagination