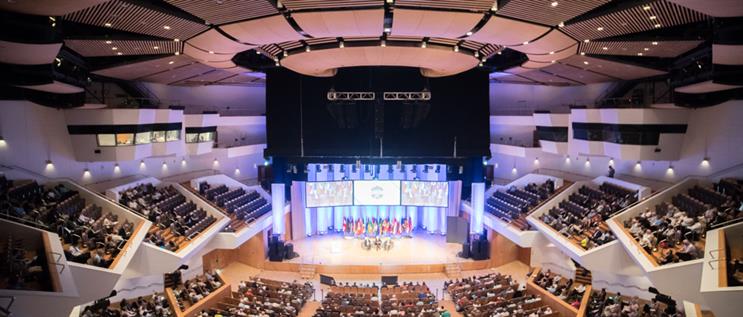 WINNER
Belfast Waterfront
---
Given a new lease of life in 2016, the extended Belfast Waterfront smashed its targets and generated a whopping economic return of £21m for the city.
Catering for up to 5,000 delegates across four main spaces, Belfast Waterfront can accommodate 1,000 banqueting guests or 1,500 for receptions. The 'new' Waterfront has brought significant additional business opportunities, as well as raising the city's profile as an event destination. It has enabled clients such as BBC Good Food Show to bring large-scale events to Belfast for the first time. Indeed, 76% of events during 2016 were new to the city.
The venue is operated by Belfast Waterfront and Ulster Hall Limited (BWUH), which was set up in April 2016. Impressively, BWUH secured more than double the target number of both major conferences and delegate days and exceeded its economic-impact target by 75% in its first year. Belfast Waterfront staged 340 entertainment and business events in 2016, attracting more than 300,000 visitors and 50,000 delegate nights to the city.
Belfast in the spotlight
A highlight was the annual UTV/Business Eye Awards, a glittering gala filmed for television. Sell-out entertainment shows included a wealth of international artists such as Josh Groban, Passenger and Van Morrison, while the locally produced Music Box brought a traditional Christmas to more than 3,500 concertgoers.
The traditional Belfast welcome and the Waterfront team's willingness to go the extra mile have brought warm praise from customers, resulting in an 80%+ customer satisfaction rating. Active social-media engagement has led Belfast Waterfront's presence grow to more than 15,000 Facebook, 1,500 Twitter and 250 LinkedIn followers, boosting brand awareness.
Highly Commended: Olympia London
One of the oldest and best-known venues in the UK, Olympia London welcomes more than 1.6 million visitors to over 200 events a year. Under increasing pressure to return on owner Capco's £45m investment, the venue set out to deliver a 20% three-year increase in utilisation, enhance customer experience and strengthen the Olympia London brand.
Its efforts paid off, resulting in a 25% increase in utilisation over three years; contributing to 2016's top-line revenue growth of 7% and year-on-year EBITDA growth of 29%. Its social-media following increased by 74% and Olympia London was recognised as a 2017 Superbrand, alongside Apple, Rolex and Lego.
Finalists
The Crystal
Excel London
The O2
The Silverstone Wing
Tobacco Dock
Troxy