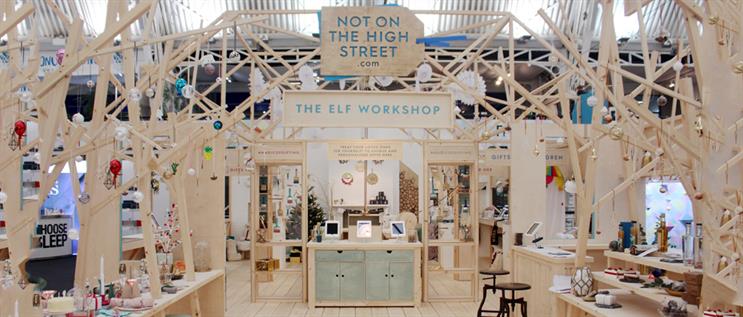 WINNER
The Elf Workshop for Notonthehighstreet.com
The Persuaders
---
As part of a fully integrated campaign spanning TV, radio, experiential, outdoor, CRM, digital, PR and social channels, Notonthehighstreet.com wanted to create an engaging and interactive stand for the 2016 Stylist Live event.
Its mission was to inspire thoughtful gifting, raise awareness and drive a deeper understanding of the brand among new and existing customers, and create cut-through at the most competitive time of the year.
Meeting the makers
Taking inspiration from the idea that the Notonthehighstreet.com partners are akin to elves working in their workshops to deliver Christmas, The Persuaders conceived a contemporary Elf Workshop with a Scandinavian influence, designing deconstructed wooden trees that morph into the support beams and rafters of the main exhibition stand structure.
The stand was designed to enable Notonthehighstreet's partners to demonstrate their work and display it beautifully, as well as enabling visitors to handle the products. Those who visited the stand saw partners create merchandise that is usually available only online, but could be bought directly from the stand.
A chimney breast that rose above the stand enabled guests to place their Christmas gift wishes in a special wind-up Santa in-tray, which was then delivered down into the workshop.
More than 13,000 people visited the stand over the course of Stylist Live. As a direct result, brand understanding increased 6% year on year – to the highest level it has ever been – while purchase intent increased from 34% in 2015 to 38% in 2016.
Highly Commended: The Kodak Quarter - Jack Morton Worldwide
Kodak turned to Jack Morton Worldwide to create an experience to generate leads, drive sales and create advocacy at print show Drupa 2016.
To dramatise how Kodak was reinventing itself as the go-to brand for creative minds in the print industry, Jack Morton was inspired by how the industrial hearts of cities continue to undergo a similar transformation, resulting in the creation of The Kodak Quarter – a vibrant, regenerated city-hotspot experience. This provided an innovative way to demonstrate Kodak's solutions: a mini-mart held varied samples of product packaging and an art-gallery space featured luscious poster prints.
The Kodak Quarter enabled Kodak's Print Services division to achieve 187% of its sales target, 2,847 leads were captured at the show with 156 contracts signed, and 31% of all Drupa attendees visited the stand.
Finalists
Boeing's Centennial Experience Pavilion at the Farnborough International Airshow 2016 – GES
GSMA Innovation City – Mobile World Congress 2017 – Momentum Worldwide
ITV Studios House @ MIPCOM, Cannes – ITV Studios
Microsoft Future Decoded 2016 – Momentum Worldwide
Sony PlayStation – Paris Games Week 2016 – Amplify