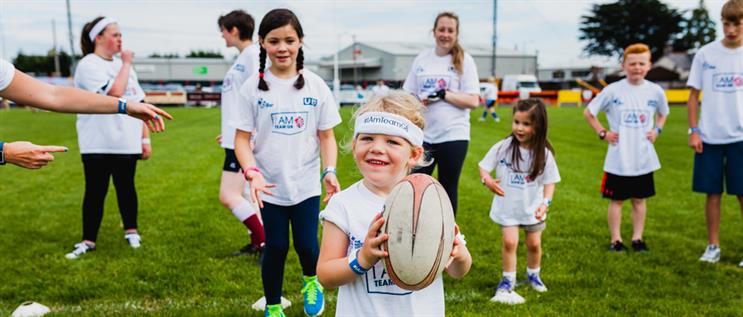 WINNER
I Am Team GB
ITV
---
Ahead of the Rio 2016 Olympic Games, ITV and The National Lottery partnered the British Olympic Association and UK Sport to inspire a nation of spectators to get up, get out and get active.
The vision was to create the UK's biggest-ever mass-participation sports event on Saturday 27 August – a day when the nation could come together in celebration of its Olympic heroes and say: "I am Team GB!"
A TV campaign launched "I am Team GB", driving participants to a bespoke website to sign up for local events. In addition to 14 flagship events across the UK, 2,624 local sports clubs took part.
Support from the stars
To enable every "I am Team GB" participant to have a like-for-like experience, more than 2,500 branded kit packs were created and distributed to local sports clubs and each flagship event had the same "look and feel". Whether participants were sailing on Ullswater or playing table tennis on the Coronation Street cobbles, every one would experience the same immersion in "I am Team GB".
A huge talent-management programme ensured that Olympic athletes, including gold medallists Alistair Brownlee, Elinor Barker and Max Whitlock, appeared at events alongside ITV stars.
Almost one million (972,000) people participated in "I am Team GB", smashing the original target of 300,000. The 14 flagship events attracted 48,089 participants versus a target of 14,000. On social media, #IAmTeamGB trended number one in the UK and in the Top 10 worldwide.
Highly Commended: Samsung Royal Blood - Iris Worldwide
To celebrate the launch of the Samsung Galaxy S8, Iris Worldwide convinced rock band Royal Blood, which had never partnered a brand before, to share the first live "moment" of their new album with Samsung.
Working with award-winning director Sam Wrench, the agency created a "mind-blowing" infinity stage in an abandoned underground space beneath Islington Green, to celebrate the infinity display on the new S8.
The ground-breaking launch show, watched live by 500 people at the venue, was supported by a 360° virtual-reality innovation and simultaneously live-streamed in 4K 360 across YouTube, Facebook and Periscope, achieving 1,046,928 views on the night.
Finalists
Airbnb – #LivethereHaus – Amplify
Gravity Light – JWT Live
The Bose & Mercedes AMG Petronas F1 Virtual Garage – Synergy
Twitter Periscope – Lively Worldwide