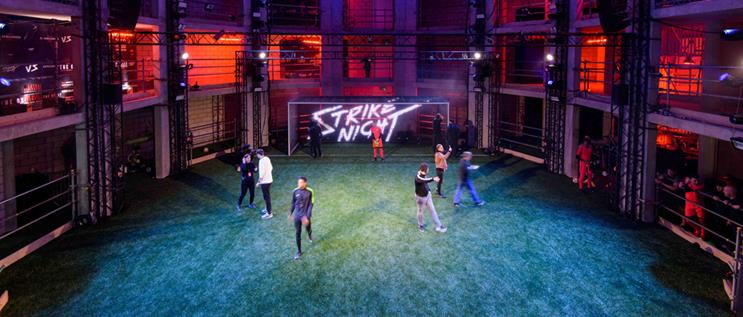 WINNER
Nike Strike Night
XYZ
---
Described by judges as a game-changer and a future benchmark for how all live events will be experienced, Nike Strike Night, delivered by agency XYZ, is the deserved winner of this year's coveted Grand Prix.
Nike's debut Strike Night was an audacious live experience featuring Europe's top six elite goal-scorers going head-to-head in the ultimate penalty shoot-out, with a one-hour Facebook Live show.
Dubbed "Fight Club for football" by lead agency XYZ, which designed and built the set and ran the event on the night, Strike Night was created to transform the launch of the Nike Hypervenom 3 football boot into a cultural moment while creating the highest level of digital engagement among target audiences including the football-obsessed teens.
Live interaction
Inspired by the NBA dunk contest, XYZ created Strike Night in a secret underground London location, welcoming 400 invited guests in the venue audience, and almost half a million live viewers via Facebook Live.
Going head-to-head to be crowned champion, the footballers had to score high or go home, with results measured by the world's first full-size, fully interactive LED goal, the most intelligent goal ever, designed in close collaboration with AKQA and Another Space, part of United Visual Artists.
The strikers were judged pitchside by Nike Football legends Ian Wright and Didier Drogba, while the global Facebook Live audience had their say via emojis and Facebook reactions.
Live comments and reactions drove the engagement, pushing the event up the feed as fans reacted on every battle, through the real-time Facebook poll functionality.
Each player was allocated a reaction emoji, with the audience encouraged to vote for the athlete with most the impressive finishes. At the end of the battle, the athlete with the highest number of votes received a 500-point bonus, putting the power in the hands of the audience.
Within 24 hours, more than 2.7m fans had watched the Facebook Live broadcast, while live content outside the broadcast reached an incredible 10 million views.