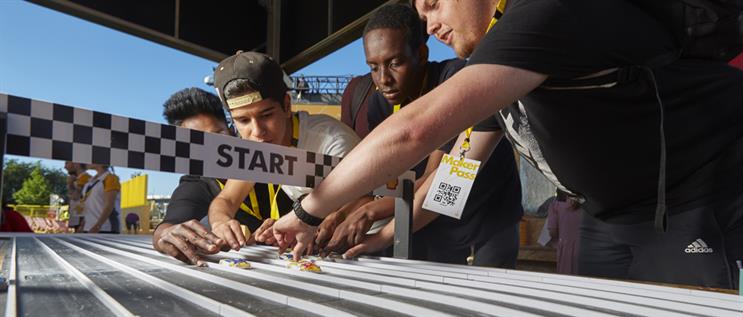 WINNER
Make the Future Live
Shell and Imagination
---
"Make the Future Live" – a four-day festival of energy ideas and innovation held in May 2017 at the Queen Elizabeth Olympic Park – aimed to create a platform for open, honest dialogue about the global energy challenge and support Shell in demonstrating its role as a future-thinking energy company.
Millennials, schoolchildren, business leaders and the general public were invited to interact with bright energy ideas in action, back their favourite ideas and contribute to the debate. At the event's heart was the Shell Eco-marathon: a competition for students to design and build energy-efficient vehicles and see which could drive the furthest using the least amount of energy.
Exploring ideas
The festival was divided into three zones. "Our Energy Future" contextualised the energy challenge we all face. Visitors explored the world's energy sources, and discovered ideas that could power a cleaner future. "Live, Work, Play" featured inventions from start-ups changing the way we live, such as a barbecue using recycled coffee as fuel, while "On The Move" explored the future of mobility. This zone included a journey through the Shell Eco-marathon paddocks to see competing engineers working on their vehicles.
Over four days, 25,000 visitors attended, with content coming out of the festival achieving a social media reach of over 137m. Research agency Ipsos MORI concluded that 95% of visitors left the event with a better understanding of Shell's role in meeting the energy challenge; 76% had a positive experience of the event, and 75% felt more favourable toward Shell following their visit.
Highly Commended: Hoegaarden – The Floating Gaardens - Momentum Worldwide
Hoegaarden wanted to capture the attention of hard-to-impress urban millennial drinkers with an unforgettable experience. Momentum Worldwide created The Floating Gaardens – an urban "Gaarden" barge of unexpected sensory delights. Guests enjoyed an hour-long journey featuring Hoegaarden paired with canapés from celebrity chef Valentine Warner, and experienced the Sound Scape Gaarden, where carefully selected sounds enhanced Hoegaarden's natural botanicals.
An exclusive media-launch party positioned The Floating Gaardens as summer's must-visit destination, and tickets for sailings were allocated by ballot.
The activation smashed its targets, with 4,845 ballot entries versus a target of 1,000 and 708 people experiencing sailings. There were 483 mentions of #floatinggaardens on social media, reaching 16,300 consumers.
Finalists
Alexandra Palace Fireworks Festival – Alexandra Palace
BFI Embankment Garden Cinema – People
Magical Lantern Festival – Weli Creative
Hyde Park Winter Wonderland 10-Year Anniversary – PWR Events (A WME IMG Company)