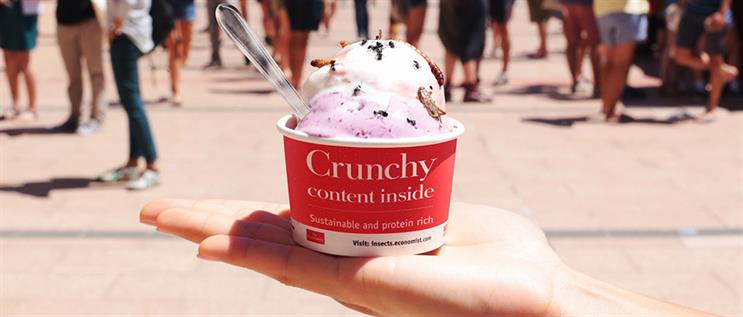 WINNER
The Economist- Discomfort Future
Sense

London
---
The Economist was good at getting experiential subscriptions, but wanted to up its retention rate, so it turned to its audience to identify their key rationale for subscribing: they believed the content took them out of their comfort zone.
The brand and agency Sense identified the globally curious – those with a global outlook, excited by technology and who thrive on a challenge – as the target audience and sought to steer away from timid one-year-only subscribers.
With a strategy dubbed 'Discomfort Future', Economist content was brought to life, bringing consumers experiences that were designed to be challenging, provocative, or even downright unpleasant.
The value of challenging
Each time the formula was the same: offer something seemingly pleasant, reveal its true nature, and then use the conversation to pitch The Economist. One example was handing out ice creams that had been protein-enriched with crickets, locusts, and meal worms – a reference to an article in The Economist titled 'Why eating insects makes sense', examining how important insects may be for a sustainable diet in the future. Coffee, made using water that appeared to have been filtered from the waste in a portable toilet, and smoothies, made from fruit that would otherwise have been found in the rubbish, were also offered.
By filtering the audience in this way, the retention rate was more than doubled: the raw number of sign-ups rose from an average of 20 to 60 a day. The brand adopted Discomfort Future as a continuous global activity, achieving an ROI of 171%.
Highly commended: Glastonbrow - The UK's First Beauty Drive-Thru - The Persuaders
Drawing on cosmetics brand Benefit's San Francisco heritage and maintaining the Persuaders tongue-in-chic look and feel for Benefit's brand experiences, GlastonBrow – the UK's first "brows and beauty" drive-thru was born.
The activation, which gave away free Benefit goodies, brow waxes and festival essentials on the route to Glastonbury, was a glistening pink beacon, keeping festivalgoers entertained with DJs and the ultimate festival makeover.
Passers-by were able to pull up to the window to choose from a menu of brow-inspired gift options and then drive through to the collection window, where a "Benebabe" delivered the free goodies.
In addition, Benefit gave away all the necessary festival essentials for a weekend of glitter, flower crowns and music. In two days, the drive-thru received more than 1600 visitors – in 700 cars and one coach.
Finalists
Fast & Furious 8: Hit The NOS – Star in Your Own Trailer, Stellar
Samsung Galaxy S8 Launch – Unbox Your Phone, Wasserman
The Kodak Quarter, Jack Morton Worldwide
Walkers Crisp Sarnie Club, Initials