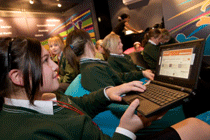 A total of 68,431 students attended the mobile campaign during 2008/9, up from 55,570 in the previous year.
Other statistics show that 95% of the students that took part in the initiative said they would consider higher education.
The roadshow is part of the national 'Aimhigher' programme to encourage more young people to pursue higher education, in particular those in communities with traditionally low levels of participation.

EMS made changes to the long-standing campaign following its appointment by the Department for Business Innovation and Skills as the lead agency for the next three-year phase, ending 2010/11.

"A key change was the introduction of a fast-paced new interactive experience - including live electronic voting - to better engage the target audience of 13-19-year-olds in discussion about the benefits of higher education,"
said EMS client services director Justin Isles.
EMS also introduced five brand new roadshow vehicles, able to accommodate larger student groups.
To add your own comment register and let us know your thoughts.