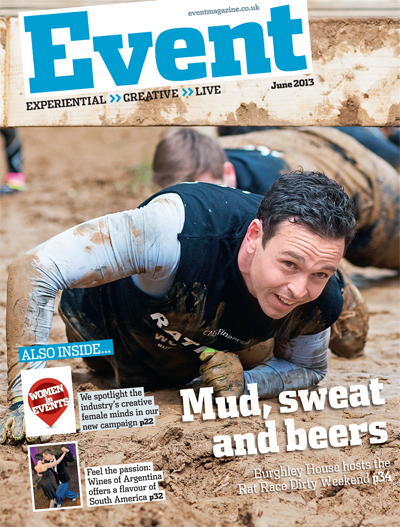 Highlights in the June issue of Event include:
Women in Events – This issue marks the launch of our Women in Events campaign, which aims to raise the profiles of key female eventprofs and encourage women at all levels of the industry to shout louder about their achievements. Read more about the campaign on our new Women channel. #WomenInEvents
Fab 50 Newcomers – We reveal which 50 young event companies are the ones to watch.
Brand profile – This month's Event interviews Mark Yovich, president of Ticketmaster International, to discuss the technology of ticketing and what Ticketmaster's new office space in London's Tech City means for the company.
Showcases – In this issue we get downright filthy at the Rat Race Dirty Weekend; become immersed in the culture of Argentina at Cambalache - a unique take on wine tasting; and get our celeb fix at Gabrielle's Gala charity event at Battersea Power Station. Plus, don't miss our new society pages Events buzz for six more smaller showcases.
Trendwatch – Are events conducted entirely via an iPad the way of the future? What do hybrids mean for the industry? We examine the world of virtual events in this month's Trendwatch.
Day in the life – The team goes behind-the-scenes at Bafta for Hayford & Rhodes' website launch party.
Brandwatch – Find out how Jaguar uses events to connect with traditional and new demographics.
Meet the team – We meet The Circle Agency at its base in Reading as it approaches its ten-year anniversary.
We'd love to know what you think of the issue and the Women in Events campaign. Let us know below or tweet us @eventmagazine.

To read these features, and get even more exclusive, print-only content you can subscribe here.