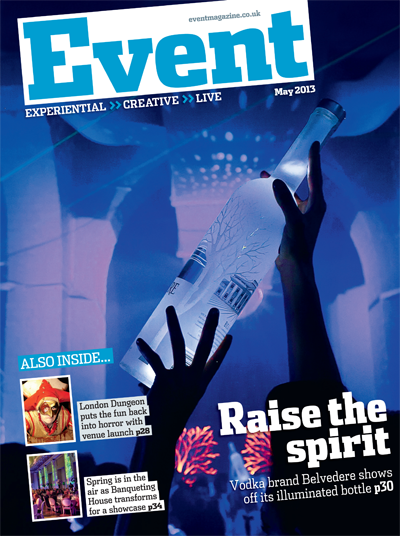 Highlights in the May issue of Event include:

Brand profile – This month Event interviews Lily Donagh, marketing manager at Cadbury to discuss the confectioner's plans post London 2012.

Special report – Global sporting events are a prime opportunity for agencies, brands and suppliers to penetrate emerging markets. As attention shifts to Russia and Brazil, we report on a new phase of brand activity.

Showcases – In this issue we got a fright at the launch of the new London Dungeons at County Hall; were wowed by light and lasers at a Belvedere vodka bottle launch; got a sugar hit at Cake International, and experienced a floral, springtime reception at Banqueting House. Plus, don't miss our new society pages 'Events buzz' for eight more smaller showcases.

Trendwatch – As new ticketing platforms grown ever-popular with venues and festival organisers, what will this mean for the ticketing goliaths such as Ticketmaster and See Tickets?

Day in the life – The team goes behind-the-scenes at the Natural History Museum.
Brandwatch – Find out how Sky uses its events to reflect its inspiring brand message to 'believe in better'.

Meet the team – We meet agency Slice to talk about its brave new creative strategy.

We'd love to know what you think of this issue. Let us know below or tweet us @eventmagazine.

To read these features, and get even more exclusive print-only content you can subscribe here.