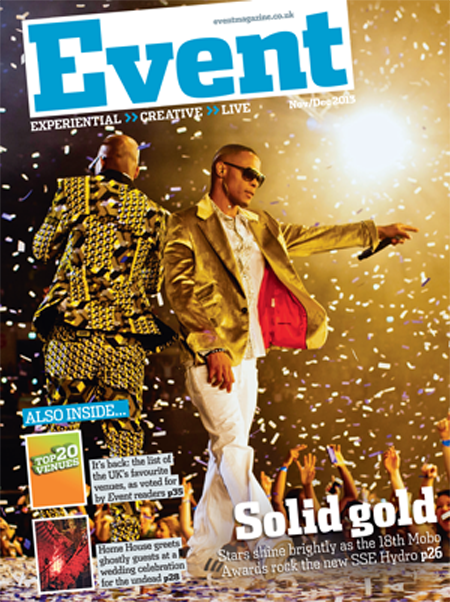 Highlights in the November/December issue of Event include:
Brand profile
Shortlist Media's head of events Mariam Ahmed talks about creating her own opportunity at the company, and how she seeks out venues that reflect the brand's slick, innovative style.
Brandwatch
We look at the Grand Designs Live brand and speak to Media 10 about how the spin-off event from the Channel 4 show is strong enough as a standalone entity.
Showcases
The Event team lose themselves in a world of chocolate at Salon du Chocolat; rub shoulders with music legends at the Mobo Awards; get spooked out at Home House's 'Til Death Do Use Part(y)' Halloween spectacular; and touch down with 'NFL on Regent Street'.
Women in Events
Read the latest on the campaign, which in this issue looks at female event professionals who took the plunge and set up their own businesses.
Trendwatch
It's no surprise that pop-ups are popular. We examine the best of the crop from 2013 and explore why they were so successful.
Venues
In our latest venue files we highlight Scotland and automotive event spaces. We also reveal our Top 20 Venues list for 2013 – find out who has taken the number-one spot.
Meet the team
Experiential agency Amplify reveals all about its company culture, industry reputation and plans for the business.
We'd love to know what you think of this issue. Let us know below or tweet us @eventmagazine.
To read these features, and get even more exclusive print-only content, you can subscribe to Event magazine here.