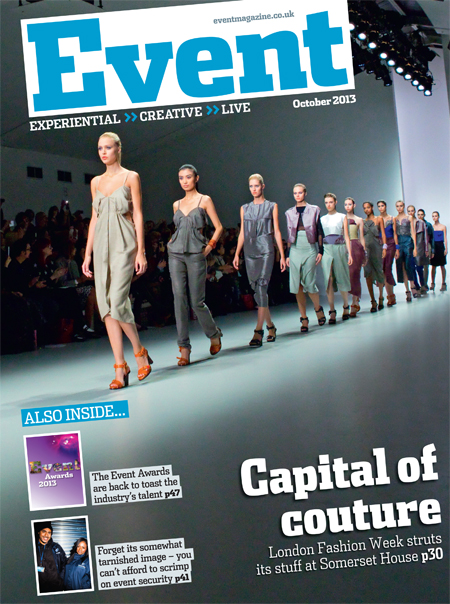 Highlights in the October issue of Event include:
Brand profile
Kia Hanly, head of events and hospitality at ITV, tells us how she wants consumers to fall in love with the brand.
Brandwatch
Alison Williams, divisional events manager for L'Oreal Professionnel Products UK, shares how the beauty brand's trade arm has been running events for almost 60 years.
Showcases
The Event team styled it up at Somerset House for London Fashion Week, enjoyed a Bavarian knees-up at London Oktoberfest, got the VIP treatmeant at Virgin Media's Louder Lounger at V Festival, and found our inner geek at Campus Party Europe.
Women in Events
The campaign continues as Event talks to the industry and debates whether flexible working is the only way we can keep a hold of the best female talent.
Trendwatch
In part two of our look into event management university degrees, Event highlights alternative routes to landing a job and the success of apprenticeship programmes in the industry.
Venues
We look at the newest and refurbished event venues out there, as well as medical spaces and venues based in London's east end.
Meet the team
M&C Saatchi PR tells Event about establishing its dedicated events and experiential team.
We'd love to know what you think of this issue. Let us know below or tweet us @eventmagazine.
To read these features, and get even more exclusive print-only content, you can subscribe to Event magazine here.