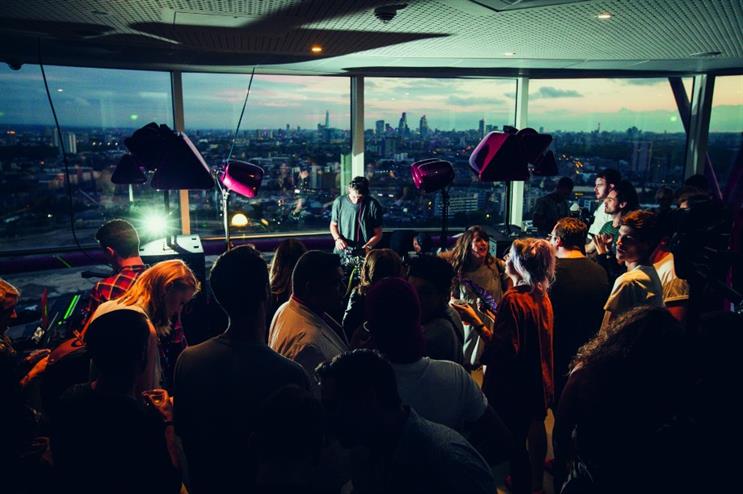 Concept
Mixmag, which touts itself as 'the world's biggest dance music and club culture media brand', recently joined up with long-time collaborator and drinks brand Jägermeister for a series of events at the ArcelorMittal Orbit.
Titled Alter Ego, the three late-night events were designed to challenge perceptions people hold about the music DJs play, to broaden their minds about the ways Jägermeister can be enjoyed, and to showcase the Orbit in London's Stratford as a venue for evening events.
"Ultimately, the idea was to showcase DJs having more talents and being more diverse than the public think," says Nick Stevenson, publisher at Mixmag. He points out, for example, that DJs are often booked to play a certain genre at festivals, but can in fact be trained musicians with many more skills. "Most revel in the opportunity to be able to showcase that," he adds.
As for the Jägermeister link-up, he says: "We have worked with the brand a lot over the years; we speak to the same audience, who like going out and having fun."
The reason for the late-night events was to record footage that will enable the brand to produce a series of YouTube clips, to be published at monthly intervals from this autumn. "I think we're the first brand to do anything like this, especially at this venue," Stevenson adds.
Florian Beuren, Jägermeister's UK brand ambassador, says the brand is keen to be known for use in a range of drinks, not just the Jagerbomb. "We are looking at ourselves as an after-dinner drink - an aperitif or cocktail base," he explains.
"We also have a history of being a music brand. We've had our own music tour over the past few years, run by Jägermeister music manager Tom Carson, but we saw this as an opportunity to team up with a cool brand and give people a different experience." Carson had worked with Mixmag before and came to Beuren with the idea. "We will see how much further we can take it after the August events," Beuren adds.
Elijah Grant, events and promotions officer at ArcelorMittal Orbit, says the venue was keen to grow its portfolio of late-night events. "The idea is to showcase the Orbit as a multi-function venue; we want to highlight that it is spacious yet intimate," he comments. "The key is to record these events and show people what an event is like from up here, inside this amazing venue."
Experience
Taking place on the first three Mondays in August, the events kicked off at 7pm, with 150 VIP guests initially transported to the first viewing platform - 76 metres up - to take in the views across London. They then headed up another four metres to the second platform to experience the full 360deg effect, with 20-mile views across the capital.
The two platforms were transformed into party spaces where leading Mixmag DJs hit the decks to perform a genre of music they are not necessarily known for. They included DJ Marky, who played house; Shy FX, who warmed the crowds with some reggae; and High Contrast, who played northern soul.
Alongside the decks, Jägermeister set up its own bar where guests could enjoy a menu of cocktails made with the drink. These included Root56, a concoction containing ginger beer, lime and cucumber, in addition to Jagermeister. "The idea was simply for guests to have a great time in an amazing location," says Beuren.
Success
With the YouTube clips yet to be screened, it is hard to estimate the ultimate return on investment, but Stevenson says the hype around the events has been huge. "It seemed like everyone in London was talking about it," he says. There was also plenty of activity on social media from guests during the event.
While attendees on the night were all VIPs, the people who will view the footage from the gatherings could potentially be in the hundreds of thousands, and, according to Stevenson, "an entirely different audience".
"We will measure the success of the event by the number of people who view the clips," he says. "It's the first time we've really done something that hits the nail on the head. Hopefully it will be the first run of these events, with more to come."
Beuren adds that it's not necessarily about an instant payback, and that when it comes to an event like this, "it is long term, and about how people perceive the brand".
On Reflection
"We wanted the guests to have the musical experience of their lives. We were looking to make this event the highlight of people's day, week and month." - Elijah Grant, ArcelorMittal Orbit
More: In pictures: Jägermeister unveils million-pound activation
Comment below to let us know what you think.
For more in-depth and print-only features, showcases and interviews with world-leading brands, don't miss the next issue of Event magazine by subscribing here.