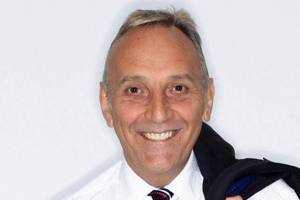 More than 3,700 readers voted, seeing Murphy edge out Concerto Group chairman Mike Kershaw and Media 10 managing director Lee Newton for the coveted top slot.
Last year's winner, COI director of live events Simon Hughes, fell to 77th in the list, a reflection of the massive cuts in the public sector this year.
The full list is below. Congratulations to all who made it in (and gained, among other things, a free invite to the Event Christmas party).
1 - Kevin Murphy, CEO, Excel London
2 - Mike Kershaw, chairman, Concerto Group
3 - Lee Newton, managing director, Media 10
4 - Andrew Evans, CEO, Brand Events
5 - Rick Stainton, managing director, Smyle
6 - Zanine Adams, head of event solutions and UK Sales, Visit London
7 – Hugh Robertson, CEO, RPM
8 - Dale Parmenter, group managing director, DRP (UK) Ltd
9 - Sarah Jeffrey, head of experiential marketing, Nike
10 - Lucy Gemmell, managing director, Rhubarb
11- James Bulley, director of venues and infrastructure, Locog
12 - Dominic Jones, chief executive, Business Design Centre
13 – Nigel Nathan, group managing director, EC&O Venues
14 - Kathryn James, managing director, The NEC
15 – Simon Dornan, head of PR and events, Virgin Media
16 - Julian Pullan, executive vice president, Jack Morton
17 - Zoe Watts, head of events and catering, Natural History Museum
18 - Jackie Boughton, head of sales, conference and banqueting, Wembley Stadium
19 - Gavin Brown, managing director, Haymarket Exhibitions
20 - Paul Byrom, managing director, Upper Street Events
21- Rob Allen, chief executive, TRO
22 - Michael Aldridge, general manager of events, Merlin Entertainments Group
23 – Andrew Douglass, CEO, Innovision
24 – Nick Becker, sponsorship and events manager, O2
25 – Phil Soar, chairman, Closer Still Media
26 - Austen Hawkins, managing director, F2F Events
27 – Jasper Hope, event director, Royal Albert Hall
28 - John Probyn, CEO, Live Nation
29 - Penny Humphrey, head of experiential and retail marketing, Electronic Arts
30 - Sam Owen, senior events manager, NMSI
31 - Ruth Mackenzie, director, Cultural Olympiad
32 - Richard Gee, operations director, Smart Event Catering
33 - Ted Walker, head of marketing, Keith Prowse
34 - David Wolanski, managing director, The Recipe
35 - Nathan Homan, creative director, and Nick Wright, operations director, Rouge
36 - Rob Nathan, group marketing director, Media 10
37 - Maria Duddin, general manager, the Brewery
38 - Claire Stokes, managing director, The Circle Agency
39 - Jeremy Lee, managing director, JLA
40 - Sam Wilson, managing director, Eco Events
41 - Nick Grecian, managing director, Gallowglass
42 - Tom Lechthaler, head of event management, ACC Liverpool
43 - Will Mould, head of events, Slice
44 - Kim Myhre, SVP and managing director, George P Johnson EMEA
45 - Dom Robertson, managing director, RPM
46 - David Pegler, managing director, Excel London
47 - Andy Gibb, head of leisure sector, Ocean Media
48 - Rich Rowley, director, XL Events
49 - Adam Sternberg, managing director, Sternberg Clarke
50 - Michael Brown, managing director, Beatwax
51 - Chris Parsons, head of events, Land Rover
52 - Graham Muir - managing director, Arena Structures
53 - Annabel Fielding, managing director, Quintessentially
54 - Harvey Goldsmith, owner, Ignite and Harvey Goldsmith Management
55 – Andy Center, CEO, Closer Still Media
56 - Andrew Williams, managing director, Seventeen Events
57 - Lyndy Redding, managing director, Absolute Taste
58 - Richard Foulkes, president, ISES
59 - Laura Biggs, managing director, BBC Haymarket Exhibitions
60 - Duncan Beale, managing director, Line up
61 - Chris Hughes, managing director, Brand Events
62 - Clare Baker, marketing director, Absolute Radio
63 - Petra Bones, head of Events, Somerset House
64 - Richard Wilson, business development director, White Light
65 - Jules Stevenson and Emma Gold, joint founders, GSP
66 - Duncan Reid, exhibition director, DSEI, Clarion Events
67 - David Hornby, events chief, England 2018 bid team
68 - Adam Blackwood, managing director, Private Drama
69 - James Mark, services & 2012 Games director, Excel London
70 - Julian Saipe, managing director, Zafferano
71 - Johnny Sullens, portfolio director, UBM Live
72 - Matthew Davies, group director of events, Haymarket Media
73 - Richard Beggs, managing director, Moving Venue
74 – Greg Lawson, managing director, Quantum Leap Events
75 - Andy Tattersall, group operations director, WorldEvents
76 - Simon Kimble, CEO, Clarion Events
77 - Simon Hughes, director of live events, COI
78 - Caroline Lockyer-Nibbs, managing director, Nibbs Events
79 - Ian Irving, director, Albert
80 - Louise Ganthony, events manager, Queen Elizabeth II Conference Centre
81 - Mike Jackson, head of live events, Stage Electrics
82 - Liz Madden, head of sales and marketing, ES Group
83 - Mark Harding, managing director, Showsec
84 - Robin Carlisle, managing director, Mobile Promotions
85 - Andrew Harvey, managing Director, Edge Entertainments
86 – Melvin Benn, managing director, Festival Republic
87 - Glenn Chadwick, managing director, Jamie Oliver's Fabulous Feasts
88 - Mark Beaver, managing director, Event Concept
89 - Charles Smith, managing director, At Your Service
90 - Charlie Hepburn, managing director, Vivid Event Group
91 - Dirk Mischendahl, group managing director, Logistik
92 - Anthony Hyde, head of corporate sales, The Barbican
93 - Gwyneth Gibbons, managing director, RGA UK
94 - Henry Scotland, joint managing director, Iris Experience
95 - Peter Kerwood, marketing director, Altitude 360
96 - Lord Jason Scott, event director, The Penthouse
97 - Justin Tadman, managing director, B2B Division, Reed Exhibitions UK
98 - Keith Austin, managing director, EMS
99 - Richard Dodgson, creative director, Timebased Events
100 - George Sirius, CEO, Eventsforce
Agree with the list? Disagree? To leave a comment, register and let us know your thoughts