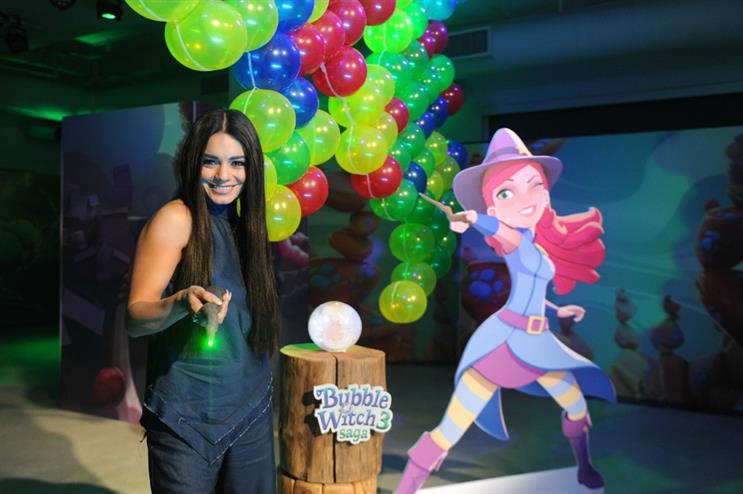 The event, which took place yesterday (23 March), opened to New Yorkers following the release of a nationwide survey by King, which revealed that American adults have a desire to escape the stresses of everyday life and are looking for new ways to escape reality and have more fun.
Using the results of the survey and taking into account ever-growing adult playtime trends such as escape rooms and giant ball pits, King teamed up with singer-actress Vanessa Hudgens to host a fully immersive, enchanted pop-up experience in New York, inviting adults to connect with their inner-child, join in on the fun and escape their hectic schedules and daily stressors.
The whimsical pop-up saw Bubble Witch 3 Saga come to life through a reimagined game of laser tag, where two teams navigated through the maze of Stella's enchanted forest and completed a series of bubble-shooting challenges. King recreated the new elements from the game to bring its fantasy world to players on a grand scale, including the brand new aiming line and Stella's magical house.
Vanessa Hudgens said: "Playing Bubble Witch 3 Saga is the perfect way relax when I have a bit of spare time on set. It gives me a perfect opportunity to escape for a few minutes. I really enjoyed practicing my bubble shooting skills at the Bubble Witch 3 Saga laser tag course in New York City - all the different game features were brought to life. It really blurred the lines between reality and the Bubble Witch world."
King Digital Entertainment enlisted singer and presenter Alesha Dixon to launch its multi-sensory Bouncingham Castle on London's South Bank in March last year. In September, King opened a multi-sensory orchard experience in New York's Madison Square Park, to celebrate the launch of Farm Heroes Super Saga.