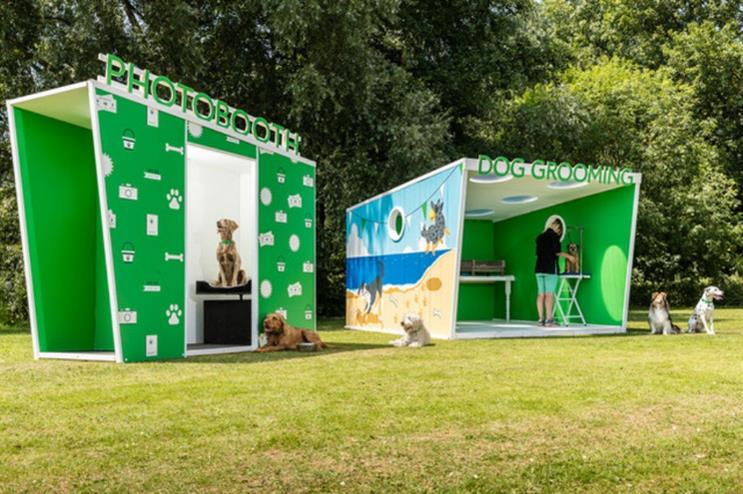 Unveiled yesterday (22 June) in Victoria Park in London, upon arrival, owners and their dogs were directed to an adjoining grooming station, where pet stylists were on hand to prep the four-legged guests, with minor fur-trims, brushing, and grooming procedures.
Once prepped and ready, dogs were then invited to take their place in the booth and pose for their headshot. The booth itself featured a range of canine-inspired features to give owners the best possible chance of capturing a great snap of their pooch. These included a pet-friendly basket adjustable seat catering for any size dog, to ensure dogs both big and small could be seen on the camera, a built-in speaker which played a variety of noises, such as dogs barking and whistles being blown to alert the dogs to the camera and peep holes next to the camera containing squeaky balls which owners could squeeze to get their dog's attention. Raw meat also aimed to heighten the dogs' senses.
The booth featuresd touch-screen capability so owners could post pictures to social media and as with a normal passport photo booth, resulting photos were available in squares of four, for owners to take away and use in their pet's passport.
The 'Pet Paws-Port' booth was staged in the wake of research among dog owners revealing the increasing tendency for people to take their four-legged friend on holiday with the rest of the family. Of those surveyed, 9% said that they have holidayed with a pet, while two-thirds (62%) admitted they would be more likely to go on holiday somewhere where they knew their dog would be welcome.
Cars proved to be the most popular mode of transport when it comes to taking dogs away – with 60% of those that have taken their dog on holiday opting for this mode of transport, followed by train (15%), ferry (13%) and airplane (5%). France meanwhile topped the list of dog-friendly holidays, accounting for 35% of pet-trips abroad of those surveyed. Spain was in second place with an 18% share, followed closely by Germany (14%) rounding off the top three.
Chris Bainbridge, pet product manager at More Than, said: "We are seeing an increase in the number of dog owners taking their pet on holiday, with weekend breaks and summer getaways no longer reserved solely for the enjoyment of two-legged family members. Accounting for this trend, our Pet Paws-Port Photo Booth is designed to raise awareness that – just like us, a dog requires a passport before they can travel abroad. And what better way of doing this than giving owners the opportunity to capture the best possible picture of their canine for their travel documents this summer."
The Pet Paws-Port photo booth
will also feature at DogFest on 24-25 June in Knebworth.