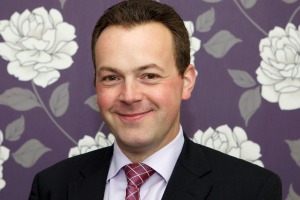 I got into the event industry because I love variety, challenge and I'm a people person. In this industry every day at work is so diverse, you're not doing the same thing day in and day out, which really bores me and you get to meet some incredible and wonderful people. I also enjoy travelling and we get to work in some of the most spectacular places across Scotland.
After starting my career and completing my training in the hotel sector, I knew ultimately, I didn't want to be a hotel general manager. I made the transition into events working for the likes of Hampden - Scotland's national stadium - Ayr Racecourse and the Glasgow Science Centre, Nick Nairn's exclusive catering company and then set up my own business.
I have worked here since I started the company in May 2009, which I did with the support of many people during what is now regarded as the worst economic climate ever. Although it's been tough, I have been absolutely determined to succeed and I am now winning.
I was attracted to this particular role because of the excitement that each day at work is totally different. I am out and about, travelling to different locations across Scotland, meeting and working with a wide range of interesting and inspirational individuals and companies. I love meeting new clients and spending time with them so we can really understand what they're looking for from their event.
Not many people know that I really enjoy tending to my garden. I don't think people would associate me with being a gardening type, but when I get an opportunity I thoroughly enjoy making it look amazing and it's a great way to unwind.
My worst experience at an event was…. it was actually getting to an event in the first place. Several years ago we were organising a very exclusive, private event for a famous footballer and his family in Scotland and our team got stuck in horrendous snow, making us eight hours late. The adverse weather had caused road blocks, vehicles were stuck in the snow but I was determined to get there and make the event happen.
We managed to obtain a 4 x 4 vehicle, off load our supplies and equipment into that and the guests, who were also delayed, were airlifted into their exclusive Scottish venue by private helicopter. Despite being eight hours behind schedule, the party went incredibly well and the guests ended up having a ball.
If there's one thing I've learnt it's that you always have to ask 'why?' when making decisions. I apply this one simple word to everything I do in my business and encourage my team to do the same. For example, why should we buy from this local supplier versus another, why should we invest in this new piece of kitchen equipment or marketing programme? It's certainly worked for me over the years.
The best event I've been involved was… there's been so many amazing events we've worked on, from a prestigious three-day event for a Scottish charity in a beautiful 19th century country mansion house with Texas performing on a remote island, a Harry Potter-themed event at Scotland's Fyvie Castle, working throughout the day and night at Edinburgh's Moonwalk to a private party in Dubai. And it's not always the events that are on the grandest scale that are the best – it's the ones with the nicest people, as clients and/or guests, that work out best.
If I could do it all over again I would… to be honest, I can't imagine pursuing another career as I'm totally passionate and committed to what I currently do, and have been doing for the last 18 years. But if I was involved in another job, it would need to be running the Monaco Grand Prix so that I could combine both my passions for event management and cars.
The one thing I can't stand is rude and obnoxious people. It shouldn't matter how stressed or time pressured, or indeed what level you're at in business, there is absolutely no need for rude and confrontational behaviour, and being in the service industry we sure do see it sometimes.
Outside of work I spend my time travelling - when I do take a holiday - eating out, savouring fine red wines and I'm a total car enthusiast. Fitting in some 'me time' to relax and unwind definitely helps my performance.
If money were no object I would definitely like to travel more. Australia is at the top of my destination wish list at the moment, I would absolutely love to head over there and explore the country. I'd also buy more cars and start a collection.
The one thing I can't do my job without is….Our venue Eskmills, a finely restored 19th century historic cotton and rope mill. Its location (just outside Edinburgh) allows us to attract and cater for many different events and serves as our spacious office.
If I could switch places with anyone else in the industry it would be Mike Kershaw, chairman of the Concerto Group, a great and very experienced event planner and businessman. We work with Concerto Live, supporting them with first-class catering at various client events held in Scotland and they're a super company to work with.
If I ruled the event industry I would encourage clients to start planning their events a lot sooner than some of them do. Proper planning within a realistic timeframe is absolutely crucial to the event's success, to fully meet and exceed the clients' expectations. I'd also ensure everyone paid on time or even up front - whether its clients paying for their event catering through to event management firms paying their suppliers – as delayed payments have such a knock-on effect in this industry, particularly for smaller companies.
Want to be featured in a future My Event World? Email news editor Samantha Edwards for further details.
For more in-depth and print-only features, showcases and interviews with world-leading brands, don't miss the next issue of Event magazine by subscribing here.
Follow @samedwardsevent