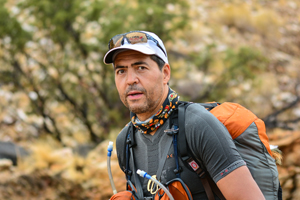 I got into the event industry because I fell into it really – from a career in publishing and then sales promotion. I was unexpectedly asked to lead a pitch for the global events programme for Emirates Airline and after winning, I was hooked on the multi dimensional, interactiveness of delivering events, whether an exhibition, party, or conference.
I have worked here since I founded the agency eight and a half years ago. We started with three people, sharing half an office in Islington with just one phone line and three clients - Google, Opodo and Travelodge. We're still in Islington, with a team of 30, a few more offices, a lot more clients – and, I'm pleased to say, an infinitely improved, fun work environment.
I was attracted to this particular role because I loved giving people the opportunity to experience something that little bit surprising or extraordinary. I believe that creating enriching experiences is what makes it all worthwhile – and that's now the central philosophy of Brand Fuel.
Not many people know that I'm a cellist and double bass player and I have a degree in music.
My worst experience at an event was a press launch event in Paris held on two floors. Upstairs in the hospitality area were five gallon silver salvas full of iced water. Catering staff were moving them whilst the conference was taking place below. Of course the inevitable happened, one of them was dropped, resulting in water pouring directly onto the stage during the speeches and the house electrics exploded. Once we had dried the client and ourselves off, we put a swift 'plan B' in place so the press launch continued as planned. That was a YouTube job.
If there's one thing I've learnt it's to always be generous of spirit. I have always found unconditional giving has led to some very unexpected positive outcomes. We recently created the brand identity, website and print for a new restaurant called Story. We did this for free because we really wanted to support the career of a new, young, talented chef called Tom Sellers. What I didn't see coming was that it is now my own son's new chosen career and he is Tom's apprentice. Generosity of spirit is a strong value in our business and one that I practice and encourage others to adopt.
The best event I've been involved in was the inaugural One Young World Summit in London. It took a lot of heartache, trust, stress, self belief, faith in the vision of the two founders (David Jones and Kate Robertson) and hard work, to bring together 850 young people, future leaders from 119 countries around the world. But the reward of creating the first ever Davos-style forum for young people was truly amazing and being part of that journey, part of the growth of an event with a serious purpose for good and having just completed our fourth summit in Johannesburg, has been immensely rewarding for our whole team and myself.
If I could do it all over again I would do it all sooner. I didn't get into my element until I was 32 so now it is one of my missions to help others get there faster.
The one thing I can't stand is lack of attention to detail. The added value is in the detail. Getting it exactly right shows passion and commitment. Inaccuracies and people who constantly use the phrase "you know what I mean" in conversation to me shows a sign of laziness and inarticulation.
Outside of work I spend my time running. I recently completed my first ultra marathon, a 250km stage race in the Great Kalahari Desert and it was such a great experience. I am returning now with two work colleagues – one of whom I'm proud to say, at 23, is the race's youngest ever female competitor. I love exploring how far I can push myself, whether that's physically, mentally or both. I also enjoy sailing and recently got my Royal Yachting Association day skipper license. Creatively, I'm a bit of serious bread maker, making the family bread at the weekend and posting bread to my daughter at university.
If money were no object... I'm a non-executive director on the board of Brave New Talent, a platform for corporate community management and a great way for employees to engage internally with their colleagues and externally with new talent. If money were no object, I would start a platform to help young people to find or create employment. I'd like to give them the opportunity to realise their potential, providing them with mentoring, tools and learning to succeed.
The one thing I can't do my job without is my rucksack. I am literally never without it and it's earned the nickname of the Tardis. Passport, wallets, currencies, two phones, two cameras, iPad, Macbook, hard drives, memory cards, dongles, cable ties, every possible video connector, different charging cables, pens, nuts and raisins and a tape measure to name a few of its contents. There is generally something in there that will help put out a fire (not literally yet) and it's invaluable especially on-site when the unknown can happen.
If I could switch places with anyone else in the industry it would be Imagination's Gary Withers. I have always admired him for his standing in the industry, his contribution to creativity in our industry and for founding and building a very successful, privately-owned company. He has a fantastic reputation for high-quality creativity applied at scale, in groundbreaking projects.
If I ruled the event industry I would work with the government to create a more structured system of entry into our industry, to enable young new talent to grow and prosper within it. This would mean sorting out remuneration so that companies don't rely on a disadvantaged internship system and they can pay people in a more appropriate way without incurring the wrath of HMRC. It would be good to make all agencies have to invest a proportion of their income into learning and development so that we properly invest in the future of our industry and remain world class.
Want to be featured in a future My Event World? Email news editor Samantha Edwards for further details.
For more in-depth and print-only features, showcases and interviews with world-leading brands, don't miss the next issue of Event magazine by subscribing here.
Follow @samedwardsevent