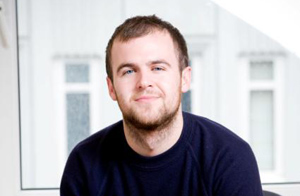 I got into the events industry because I've always loved live music; the excitement of an audience going wild to their heroes always amazed me. At the time I just wanted to get under the skin of the type of events that I loved attending. In the last few years I've seen the potential for events to become more than a great party and how they can become the epicentre for a broader communications campaigns.
I have worked here since 2006. I started off as a freelancer and the role very quickly grew into a permanent job that six years later sees me leading a fantastic team specialising in activating brands around live music.
I was attracted to this particular role because I spend a lot of time working around live music and occasionally support the sports team. Football and music; it's a dream job. Working at the agency is hard work but it's also fun and rewarding. I've delivered hundreds of great experiences to the thousands of people, met a lot of talented folk along the way and visited some really strange places and venues. Last year, I went to New Orleans to research a brand activation for a major drinks brand, in January I produced a global fashion event as part of Berlin Fashion Week, and this summer I'll be taking four brands to eight festivals from V Festival to Parklife.
Not many people know that my biggest ambition is to go on a multi-state BBQ tour of the deep south in America.

My worst experience at an event was while organising a party in Cannes I had a few scoops too many on the final night and lost my well laid out itinerary documents. This resulted in me wandering around the hills surrounding the Cote d'azur trying to desperately remember where my hotel was. Needless to say I haven't lost an itinerary since.
If there's one thing I've learnt it's surround yourself with people you trust.
The best event I've been involved in was touring the Magners cider brand activation at UK festivals in summer 2010. It was more than an event, it became the focal point for a wider through the line communications campaign. Also co-ordinating volunteers at the launch of Liverpool as the European Capital of Culture in 2008 featuring Ringo Starr being lifted onto the roof of the town hall in a shipping container was especially memorable.
If I could do it all over again I would exactly. You've just said it.
The one thing I can't stand is a 'can't do' attitude. It's so easy to say no but not very inspiring. Nothing is really impossible – you've just got to tackle things from a different angle sometimes.
Outside of work I spend my time with friends, watching the mighty Manchester United, going to gigs and getting away on a good holiday once the busy summer festival season is over.
If money were no object my whole wardrobe would come from legendary Manchester fashion emporium 'Oi Polloi'.
The one thing I can't do my job without is my contact list.
If I could switch places with anyone else in the industry it would be no-one in particular. Right now, I love what I do, I like the people I'm working with and I relish the variation of the accounts I'm getting to work on. That said, it would be nice to have our live director, Jon Drape's reputation, bar tab and all round stamina.
If I ruled the event industry I'd make briefs come in earlier. There's nothing quite like the feeling you get when you've delivered a great event in a tight turn around. However, it would be nice to sometimes spend a little more time and get even better results for our clients.
To leave a comment
login
and let us know your thoughts.
For more in-depth and print-only features, showcases and interviews with world-leading brands, don't miss the next issue of Event magazine by subscribing here.